Sustainability and good design…we're always interested in these topics, but especially this fall. To us, good design is the key to making our eco-efforts, well, sustainable. It's much easier to stay the course when our commitments involve home goods that make us feel good. And, this fall, we could use all the feels we can get.
Do you remember in The Devil Wears Prada when Emily Blunt's uptight (but well-styled) character blurts, "I rarely say this to people who aren't me, but you have got to calm down." That line is a mood. And that mood is the one we're in when it comes to sustainability right now, especially with all the recent news and activity around climate and global energy.
It's hard for some of us to wrap our brains around the issue of sustainability and meaningful personal change. The task seems too overwhelming for us to address with our glass straws, linen napkins and homemade house cleaning solutions. Although we hope large industrial changes and life-altering technologies are on the horizon, the truth is that small consumer behaviors do make a difference and — if we make them together — the impact can lead to profound change. One thing is unavoidably clear to more of us than ever before: our pace of play when it comes to personal consumption and waste has simply gotten out of hand.
Instead of flipping out like Emily Blunt and her stressed office crew, we're taking a slow and steady approach by adding more well-designed, practical products and practices to our daily routine. We've discovered that, truth be told, if the process is pretty we're more likely to stick to it.
These simple picks below come from our Fall Shop and represent the simple steps we're taking to reduce our personal consumption and cut out as much waste as we can without driving ourselves mad. Explore our picks and let us know in the comments; what are the most meaningful things you do every day to improve your sustainable impact?
keepcup Reusable Coffee Cup | There's no more blissful ritual than that first warm morning beverage — whether coffee, matcha or herbal tea. Cafes are becoming increasingly tolerant of multi-use cups and this simple glass version is one of our faves. Our biggest complaint with travel cups is clunkiness, child-like colors and weird lids. This is one of the most seamless we've tried and it definitely manages to spark joy. CHECK OUT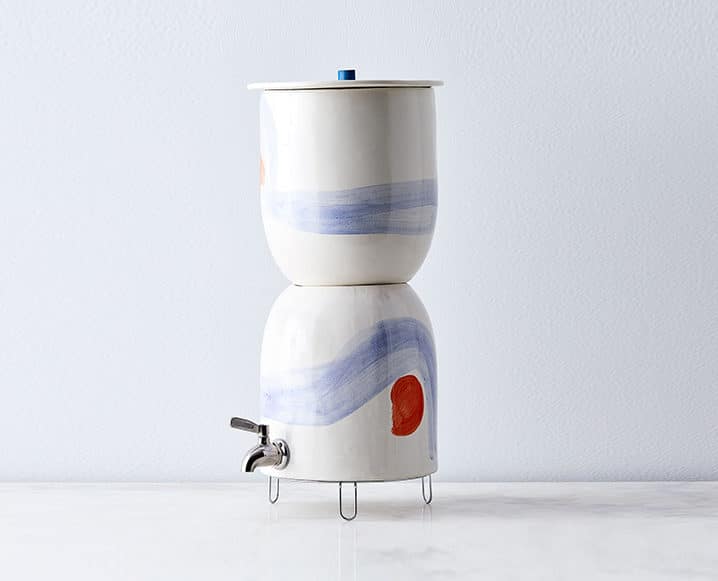 walter ceramic water filter | Yes, plastic water bottles are infinitely convenient. They may be one of the toughest things to quit. One way to peel your sweaty paws off your addiction to single-use water bottles is a gorgeous water filter for home or office. This artful version by Walter is hand-painted in Brooklyn and has an almost Japanese feel to it. We think the soft shape and artful details makes the little chore of keeping it full much more 'sustainable'. CHECK OUT
Black + Blum charcoal filter water bottle | Another filtered water solution includes a remarkably low-tech charcoal stick. The activated charcoal water filter "attracts the ions of contaminants to the surface of the carbon, to be held and at the same time releases minerals such as calcium, iron and magnesium back into the water." Essentially the same filter as the countertop version above in a 'take with you' form. The ergonomic bottle just adds style points.  CHECK OUT
W&P porter ceramic bowl | We're obsessed with W&P's casual, but gorgeous lidded travel bowls. Maybe it's the little strap that make it feel almost like a good handbag — or the great color options. Use this to store leftovers that are ready to grab from the fridge to make a great salad the following day. CHECK OUT
mesh produce bags | 70's style mesh bags are having a low-key fashion moment. Why not go with the flow and embrace them in the kitchen too? Pack them to the farmer's market, use them to wrap up washed produce for the fridge, or free up kitchen counter space by hanging a good haul of citrus, apples or avocados up and out of the way. CHECK OUT
stainless steel Food storage | Stainless steel as feel-good object? Why, yes. These days, we're overwhelmed visually. Imagine opening up one of these tins to a rainbow of greens, berries and grains. Or a beautiful set of spring rolls (check all of these out). That's just the balance we need. These tins may not excite you in this vacuum of white space, but in concert with the rest of your life they're surprisingly great. CHECK OUT