Adriana's commitment to fitness is legendary. We've long been fans of the Victoria's Secret model's healthy representation of what it takes to look this strong.
With Lima's last Victoria's Secret fashion show appearance happening just a few weeks back, the model has been top of mind. Anyone else fairly impressed by just how much hard-core fitness content the VS Angels produced on social media this year? While the show itself might be controversial, we're happy that more models are showing off their feats in the gym. It hasn't always been that way.
Amazon recently launched a handful of curated shops including fitness essentials hand-picked by fit celebs like Adriana. We decided to shop through Adriana's home gym shopping list and these were our top ten picks…
Neoprene
Dumbbell tower
 |

 This little tower of weights could be a total game changer for your home workout routine. Wedge it into a discreet corner until you're ready to get moving. It's amazing how effective even simple movements can be for strengthening and toning when you add on a few extra pounds. 
CHECK OUT
a super Thick Exercise Mat |
Perfect for yoga, pilates, and any other workout routine, this padded workout mat can be toted along and rolled out
anywhere
. The textured surface boosts traction and the thick foam eases pressure on your joints. 
CHECK OUT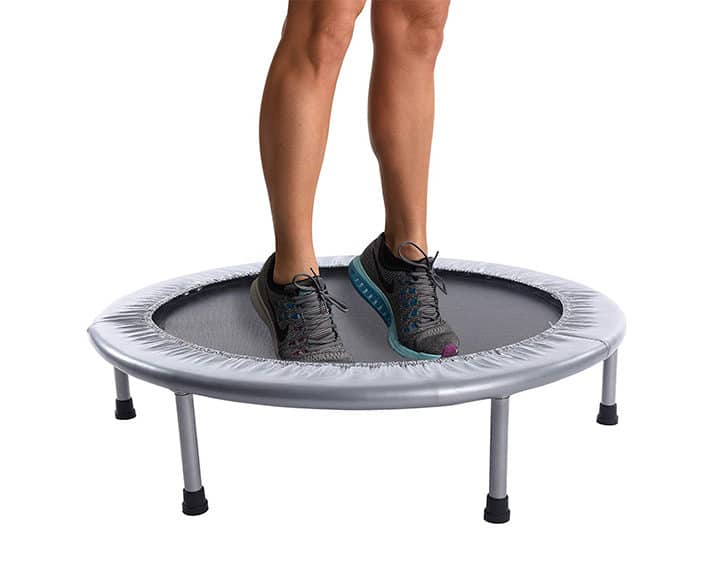 do you even Rebound? |
There are endless benefits to rebounding. Just a few minutes of bouncing on this compact trampoline can help clear your lymph and do wonders for your circulation. This petite piece of gym equipment folds up so it won't take up floor space.  
CHECK OUT
Beats Wireless Headphones |
 Our best workouts happen when we have our favorite playlists blasting. It's science! We love these wireless headphones that block out extra sound and allow you to move freely through your workout without getting tangled in wires.  
CHECK OUT
everlast Boxing Gloves |
Boxing is one of the best ways to lump cardio, strength training and agility all into one workout. Seek out a studio that you're obsessed with and stroll in with your own pair of gloves to look like a pro — or practice shadow boxing at home to perfect your technique without any equipment. Full padding on the front and back of the wrist promotes proper technique. 
CHECK OUT
Puma Training Sneaker |
Sometimes the best workout motivation comes in the form of a cute pair of shoes. Chic and supportive, these cute sneakers are ideal for training.  
CHECK OUT
the scary Acupressure Mat |
This scary-looking, pain-reducing mat helps reduce muscle tension, back pain and headaches. Simply lay on it daily for 20-30 minutes and allow the supportive foam and strategically placed acupressure points to relax you. Throw on a sheet mask and lay back for a boost of blood circulation and endorphins. 
CHECK OUT
the Waist Trimmer |
The Sweet Sweat Waist Trimmer is designed to enhance your workout by helping to improve thermogenic activity and increase sweat. It won't give you abs alone, but paired with the rest of your fitness efforts, this fun little accessory can give you a noticable boost.  
CHECK OUT 
Handheld Foam Roller |
This handheld roller helps release tight muscles and tangled fascia. It targts big muscle groups like a full sized foam roller but can also be used to pinpoint specific areas. Keep it next to your workout gear or stash one to the side of your desk. 
CHECK OUT
What's the one piece of equipment you can't workout at home without?