Using what is in the fridge used to be one of my least favorite things. I probably spent most of my childhood saying, "Mom, there is nothing to eat in the fridge", to which she would inevitably respond, "Don't tell me there is nothing to eat, there is tons of food. You just have to be creative." Well, it only took until I was in my twenties – and actually started cooking – to fully grasp this concept.
Now, creating vegetable sautés from whatever is in the fridge is one of my go-to breakfasts or quick dinners. I pull out what I think will work well together, prep my ingredients and get ready to mix it all together. No recipe. Just sautéing a few vegetables, maybe some leftover rice, quinoa or a potato and topping it with an egg. Don't be intimidated. Just wing it!
Simple Breakfast Sauté
Serves 2
1 leek, thinly sliced – do not include the tough green tops
1 Russet potato, peeled and cut into small cubes
1 ear of corn, kernels cut off
3 stalks of kale, leaves removed, thinly sliced
1/4 c. canned black beans, drained and rinsed
2 eggs
parsley
olive oil
chili flakes
salt
pepper
1. In a medium sauté pan, heat 2 tablespoons of olive oil.
2. Add the potato, a sprinkle of salt, some fresh cracked pepper and a pinch of chili flakes. Stir to coat. Cover the pan and let the potatoes cook until soft, stirring occasionally.
3. Once the potatoes are cooked through and a golden brown color, add the leeks. Stir and cook for a couple of minutes.
4. Add the corn, black beans and kale. Stir and cook until kale is wilted and black beans are heated through. Taste and season.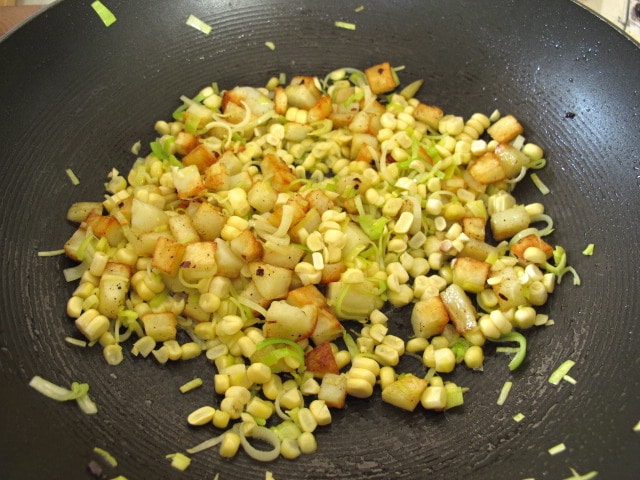 5. Add the parsley and mix. In a separate pan, heat a little olive oil.
6. Once the oil is hot, crack an egg, sprinkle with salt and pepper and fry to your liking (I keep my yolks runny).
7. Scoop some of the vegetable mixture into a bowl and top with the fried egg. Crack some fresh pepper on top and serve.