Over the last year, most of us have gently eased back into some the outings we missed most during the pandemic — making restaurant reservations, revisiting our beauty appointments, maybe even booking a bit of travel. But when is the last time you scheduled a good spa day?
Spending the day at the spa, whether solo or with friends, can be such a smart way to spend a summer afternoon. Many of LA's best spas are in hotels with great pools to hang at before or after treatments, others have relaxing lounges made for a peaceful catch-up with your bestie and a cup of tea.
Here are four spas we've been loving lately for summer Friday self-care…
Four Seasons Los Angeles at Beverly Hills
The details:  Give yourself a dose of classic Beverly Hills luxury by booking a treatment at the spa inside the Four Seasons. The rooftop pool is just outside the spa doors if you're looking to soak up some rays before or after treatment. Order lunch poolside — just be sure that any face treatments you book are sun-safe and pack your sunscreen!
Treatment to try: The new Toning and Firming Body Sculpt Body Treatment is a rejuvenating treat head to toe.
A massage specialist utilizes wellness tech in the Hyperice Hypervolt gun to stimulate circulation, provide deep massage and break down fat cells that produce unwanted cellulite. Massage is followed by a full body wrap with anti-inflammatory turmeric clay to release water retention and skin pigmentation. The treatment concludes with a 60-minute lymphatic massage that helps reduce inflammation and lymphatic blockage, as well as improving the immune system.
SkinSpirit Beverly Hills At Lasky
The details: SkinSpirit is a medi-spa that provide the full gamut of face, skin and body treatments. Not everything is clean and natural, of course, but there are a few treatments offered we really love. The Beverly Hills location is located jus across the street from the Peninsula Hotel. Consider hitting the hotels rooftop pool for sun and lunch if you want to make a full day of things.
Treatment to try: The DiamondGlow Facial Using a recessed diamond tip wand, this high-tech facial requires no recovery time while delivering impactful results. A great choice for skin tone and clarity, especially if you commit to treatments every other month.
DiamondGlow helps exfoliate dead cells while pulling impurities out of pores for a deep clean — most practitioners will show you what they've pulled from your skin after treatment. If you're not squemish, the results are impressive. While exfoliating, the wand also infuses the skin with a SkinMedica corrective serum tailored to your specific needs. There's a clarifying serum for acne-prone skin, as well as a serum for extra hydration or anti-aging. Skin will appear brighter, clearer, and more even in tone.
Milk + Honey Spa (Shown at top) 
The details: With spas in Brentwood and Culver City, this newly arrived spa out of Texas serves up classic spa treatments in a convenient setting you can pop in and out of easily. Their cozy lounge stocked with tea and snacks is also perfect if you're not in a rush and want to take your time relaxing solo or with a friend post-treatment.

Treatment to try: The Signature HydraFacial MD® with the ReGen GF Add-On
The HydraFacial is a great choice for monthly or quarterly facials if you're looking to start a routine. The high-tech facial is totally painless with no downtime, but provides hydra-dermabrasion, extractions and an infusion of powerful, nourishing nutrients deep into the skin.
We love the add-on available with growth factors, ReGen GF. Growth factors help to restore skin health and diminishes the appearance of fine lines like nobody's business. The GF serum is patented with breakthrough technology to enhance absorption — pair that with the HydraFacial application method and you've got a high-impact facial treatment.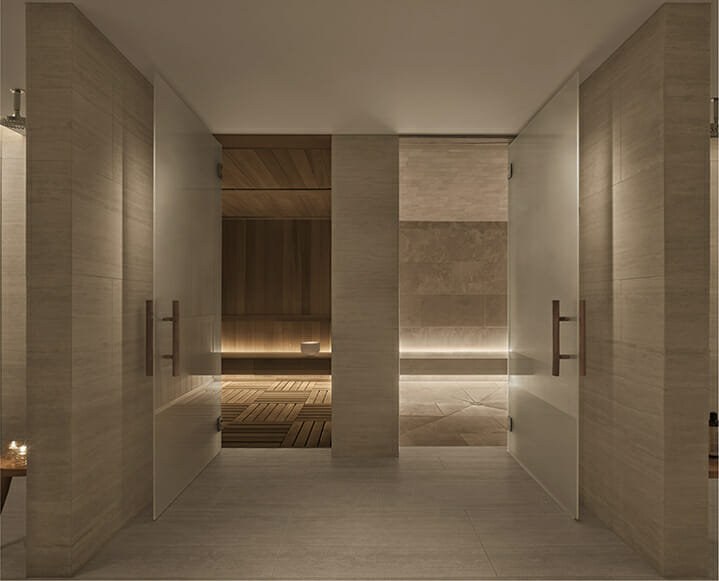 the West Hollywood EDITION Spa 
The details: The EDITION Hotel in West Hollywood is a full-on design experience, including the uber-modern, yet cozy spa. The spa lounge is worth making time to linger in, but again the hotel's rooftop pool is a must-see too. Schedule lunch up top and pop down into a fluffy robe later for a treatment (or two!).
The treatment to try: Choose from classic facials and modern therapies like sound baths and infrared wraps, but we're partial to the new body treatments from Osea. There are 3 body treatments with the Malibu-based skincare, all centered around their marine algae rich Undaria body oil rich in minerals and vitamins. The Renew treatment includes dry brushing and the Detox treatment includes a full body mud mask.