We live for a gorgeous farm affair. Alicia Lund, creative director and blogger behind Cheetah is the New Black, recently joined friend, Kevin O'Connor, the chef at large for Cobram Estate olive oil, to create a stunning Sonoma tea party. The lunch took place at the home of Sarah Anderson, founder of Chateau Sonoma – an impossibly stylish French home and garden lifestyle store with decor and antique treasures sourced from all over the world.
Sarah used linens and ceramics from her home store and tulip tree trimmings from her yard to accent the table. In addition to the lunch, Sarah demonstrated tips for preserving lemons freshly harvested from her trees.
"We quarter the lemons lengthwise while making sure they're still intact at the base leaving them opened up a little before tossing with ample salt and packing into canning jars. You can't really add too much salt. Some people like to season it a little with peppercorns or a bay leaf to add their own flair. They're great for dressings or adding tanginess to a recipe."
Kevin, the chef at large for Cobram Estate who has a love for foraging, cooked a menu highlighting extra virgin olive oil in dishes such including first-of-the-season strawberries with watercress and spring onions, blood orange honeycomb cake, and wild nettle and goat cheese olive oil tartlets — we're sharing the tart recipe below! Yes — brace yourself — there is a lot of cheese, but life needs room for wholesome indulgence.
Take a peek inside the dreamy gathering and keep an eye out for more recipes from the gathering on the site soon…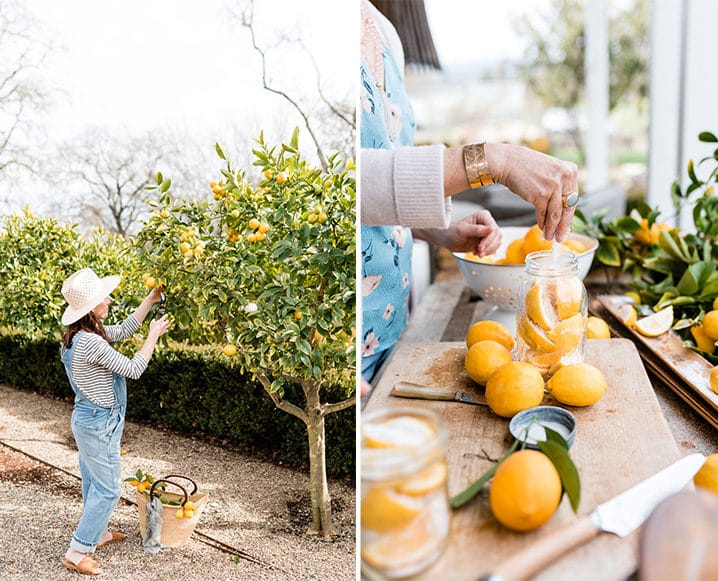 Wild Nettle + Goat Cheese Olive Oil Tartlets
Ingredients:
For the tartlet shells: 
1 1/2 cups all-purpose flour
3⁄4 tsp kosher salt
1 tsp sugar
1⁄2 cup Cobram Estate EVOO
2 Tbsp organic whole milk or coconut milk
For the filling: 
4 cups fresh picked nettles or raw spinach
1 1/2 cups organic whole milk
1 cup grated Swiss cheese
4 eggs
1 1/2 cups raw goat cheese crumbles
salt and cracked pepper
fresh marjoram or oregano
Directions:
In a mixing bowl stir together flour, salt and sugar. Stir well so salt and sugar sift through the flour. Gently mix in EVOO and milk with a fork. Do not overwork the dough.
Transfer dough into four tartlet pans and use fingers to press dough into pan. Shoot for about 1/8 inch thick evenly around the pan. Poke a few holes in each tart shell with a fork and pre-bake shells at 350 degrees for 10 minutes. Remove shells from oven and let cool.
Sauté nettles in a drizzle of EVOO with a pinch of salt until wilted. Remove from pan and place cooked nettles in bottom of each tart shell. Mix milk, egg and Swiss cheese and gently pour into each tart shell. Top with dollops of goat cheese crumbles and bake at 375 degrees until tops are golden brown.
Remove tartlets from baking tins after cooling slightly. Finish with a drizzle of EVOO, a pinch of flaky salt and torn oregano. Enjoy warm.