Any chip clip
will do, but give us a beautiful, glossy
rose gold
 chip clip and snack time suddenly becomes a design moment. We get an oversized thrill from the tiniest details in the kitchen, be it snipping herbs, a perfectly sized weck jar, or this list of pretty office supplies that make unexpectedly useful kitchen accessories too…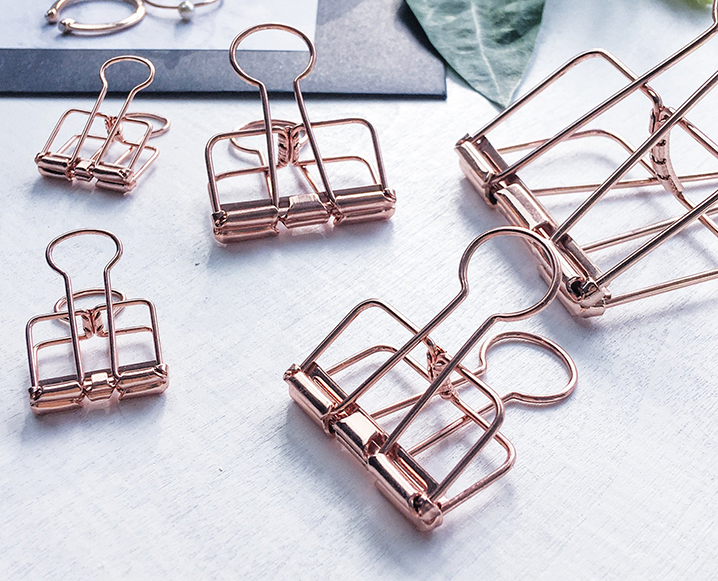 rose gold binder clips | N
o plastic chip clips allowed in our kitchens — if we can help it. These utilitarian, but pretty 
office
supplies
 come in a wide variety of sizes and are perfect for sealing everything from open bags of fridge and pantry staples, from cacao and coffee to frozen fruits and veggies. CHECK OUT
Book stand |
Books stands are great for deskside study and transcription, but this wooden beauty is the ultimate kitchen assistant too. Prop up a favorite cookbook right next to your spoon rest for easy access to every step of your recipe journey. 
CHECK OUT
kitchen shears | 
Okay, yes, kitchen shears are
already
a kitchen essential to many, but we're always surprised by how many friends neglect their shears when it comes to making quick work of salad greens, fresh herbs and more.  
CHECK OUT
FILE SORTER
 | You can't be on Pinterest long without running into this classic kitchen storage hack, but for those who haven't heard… an office file sorter will solve your pots and pans storage woes for life. Use one to organize pot lids of all sizes or to stand frying pans, grill pans and the like within easy reach. 
CHECK OUT
washi tape | Washi tape is a classic Japanese crafting staple, lending a simple splash of color to any project. In the kitchen, washi tape is perfect for creating chic custom labels for glass and ceramic storage containers. CHECK OUT