We caught up with Andrew Steiner, former Maitre d'Fromage of LA's famed Patina and owner of his own namesake store on Santa Monica's Montana Avenue.
Without a doubt, there'll have been cheers city-wide when Andrew opened his retail location in 2008.  The cheese plate-obsessed had enjoyed his work with the famed cheese cart at Patina and could now access and recreate the experience for dinner parties at home. We thought our health-conscious TCM readers might enjoy getting in on the act, so we requested from Andrew his five best picks for raw cheeses.
Pop by Andrew's before your next get-together and let his knowledgeable staff help you with pairings that your guests will skip dessert for!
The Cheese: Ascutney Mountain Tomme
Source: Hartland, VT
Flavor Profile: Similar to an older Comte. Very buttery, crystalline, onion, straight up Alpine flavors of grass, brown butter, nuts and sweetness.
Best Use: This is definitely a winter cheese. Just butter up a baguette and throw a slice on. Ascutney is in my top five American cheeses I've ever tasted.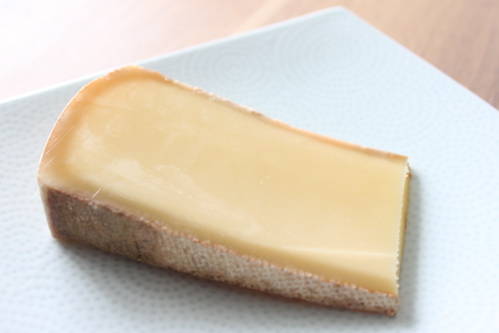 The Cheese: Andeerer Traum
Source: Andeer, Southeast Switzerland
Flavor Profile: Also Alpine in style; amazing flavors of cocoa, hay, and flowers. Second place overall, 2010 World Cheese Cup.
Best Use: Serve with any extremely acidic white wine like Chasselas, dry Riesling, or Albariňo.
The Cheese: Winnimere
Source: Greensboro, Vermont
Flavor Profile: Gooey, gritty, smelly, runny, sexy, wrapped in spruce bark.
Best Use: Baked with potatoes, this cheese will melt your brain.
The Cheese: Kirkham's Lancashire
Source: Lancashire, England via Neal's Yard Dairy
Flavor Profile: Butter crumble and lemon curd. Prototypical English iron ore minerality.
Best Use: After dinner with a spicy wine like a Barbera or Sangiovese.
The Cheese: Roqufort L'Aigle Noir
Source: Auvergne, France
Flavor Profile: Simply the best. Not cheap but you don't need much. Grassy, smooth, rich, nutty, sheepy, complex, salty, powerful. This is magical cheese.
Best Use: Drizzle a touch of honey on your baguette or enjoy some Sauternes to balance the salt out of this one. Not too much, though – this is a strong cheese with delicate flavors and lots of nuance.
Check out Andrew's Cheese Shop at AndrewsCheese.com