Once upon a time there was jam-maker named Jessica. She believed in sourcing only the very best of local ingredients. Then she took those ingredients and treated them with integrity and love. Lots of love. She knew that the seasons would change and that the only way to keep those precious ingredients around would be to preserve them. She was like a squirrel that spends it's days storing acorns in preparation for the impending winter ahead, only she was storing fresh-picked produce in little 7.5 oz jars so that those around her could enjoy a peak-of-season nectarine in the middle of December.
My first encounter with Sqirl (pronounced "squirrel") jams was rather recent. A gal pal presented me with a two pack of Heirloom Yellow Nectarine Jam: Cashmere + Mayfair. I can tell you right now that my jams will never make it to December (as I clearly have no self-control). My first thought (after admiring the cute little jars they came in) was how different the jams look. The Cashmere Nectarine jam was a dark rich orange color made from fruit on Art Lange's Honey Crisp Farm. From what I've read, Lange is the only farmer growing this variety of nectarine and furthermore, he only has three trees of fruit. Crazy, right? We are talking about some seriously small batch jam here. The Mayfair Nectarine jam was much lighter in color, a sort of delicate golden hue of yellow made from fifty year old trees on the Baldarama's farm in Orosi, California. One type of fruit, two entirely different jams.
Now, while I love a nice piece of jammed wheat toast for breakfast, it was apparent that these Sqirl Jams were destined for so much more. As soon as I got them home, I started playing with ways to incorporate them into my weeknight dinners. With preseason football gracing our home once again (is it really that time of year again already?!) I decided to make one of my boyfriend's most-requested football season favorites: oven-roasted chicken wings. Instead of the usual hot wing approach, I used the Cashmere Nectarine Jam to make a savory wing sauce. The bold richness of the jam along with fresh garlic, ginger, and soy sauce created this perfect combination of salty sweetness that covered the crispy-skinned wings in an attractive sticky glaze. Make these wings next time you are entertaining a crowd or heck, just make for yourself (party for one!).
Sticky squirl Jam Wings
Serves 3-4 as an appetizer
Ingredients
2 pounds free range chicken wings
1 jar (7.5 oz) Cashmere Nectarine Jam
1 shallot, minced
1 inch piece of fresh ginger, minced
6 cloves garlic, minced
1 lemon, juiced and zested
½ cup water
1/8 cup reduced sodium soy sauce
garlic powder, as needed
kosher salt, as needed
grapeseed oil, as needed
sriracha (to taste, if you like it hot)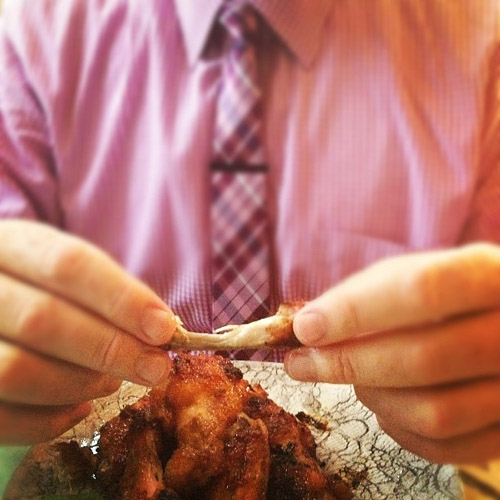 Method
1. Heat oven to 475 degrees.
2. Heat 1 tablespoon of grapeseed oil in a saucepan. Add shallots and sauté until translucent. Next, add garlic. When it becomes fragrant, add lemon juice, jam, and water. Let simmer and reduce until slightly thickened. Stir in Lemon zest. Remove sauce from heat. Stir in soy sauce. Here's where you can add a squirt of sriracha if you are lusting for some heat…but only if you want. No pressure.
3. Place chicken wings in a bowl and drizzle with grapeseed oil until lightly coated. Lay out on parchment lined sheet tray and sprinkle generously with garlic powder and kosher salt. Place tray in oven and set timer for 30 minutes. (You kitchen will start to smell amazing within minutes)
4. Once timer goes off check to see that your wings are nice and crispy-edged. If so, it's time for the final touch! Pull the tray from your oven and brush wings generously with your sauce. Place tray back in oven for 5-7 minutes so that the glaze can caramelize on the wings. Peek after 5 minutes and check on them; they should be just about perfect –sticky and gorgeous.
5. Pull tray from oven and serve wings immediately – don't forget a bowl for the bones.
Enjoy!
Find more fabulously delicious, fresh recipes with Sarah at La Femme Epicure and here at the Chalkboard!
photo credit: (top photo)