If you've been overwhelmed to discover just how much waste your family produces while at home full-time, you're not alone. When our time (and trash) was split between office, classroom and car, the facts were easier to ignore. But now that we're tossing trash in just one place, we're a little chagrined to see just how quickly our family fills the trash and recycle bins to the brim. Can you relate?
While we've been forced to reckon with the truth about how much waste we produce this year, we've also had to rely on more single-use items for safety during a pandemic. Ugh.
2020 may have slowed down some of our "reduce, reuse, recycle" goals, but we are catching up in 2021 starting with the way we approach spring cleaning.
"Rinse, Refill, Repeat."
We're reducing waste at home this year starting with the simplest stuff: sustainable product subscriptions and refillable cleaners. Public Goods makes hundreds of clean home, personal care, and pantry staples, all shipped low-impact, directly to your home at an affordable price. These are the game-changing low-waste products we like the most: 
Surface Cleaner + Refill Kit Public Goods' multi-surface cleaner does all the things with no toxic ingredients, a  jasmine essential oil scent and minimally designed bottle that's easy to store. That alone make it a great spring cleaning product for a little over $5, but never toss the cleaner bottle or order it again by purchasing the tiny, low-waste concentrated refill after you run out! Try the Kit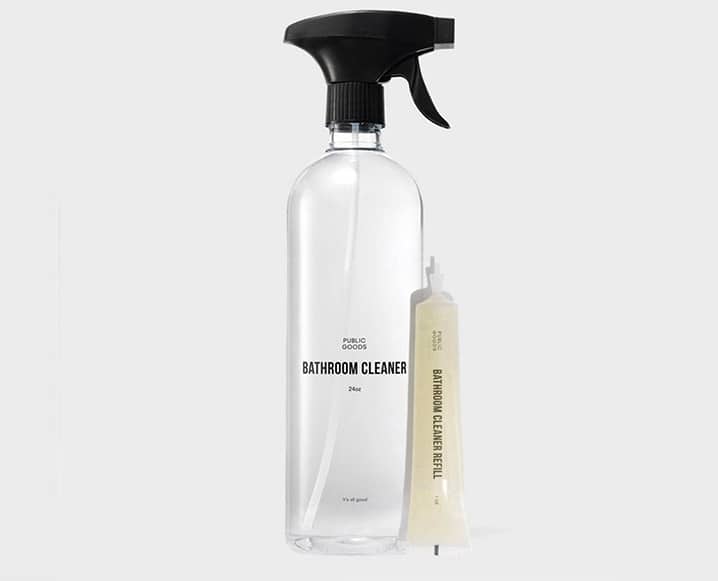 compostable trash bags + tree-free paper towels | It's almost an insult that even our trash bags make more trash. Swap to these compostable bags and feel better every time you swish one into the can ($5). Try the Bags
We laugh sometimes at how many paper towels certain unnamed family members go through (apparently, its all of us!), but the truth is it's a huge, huge source of waste! Try using more cloth in the kitchen and, when needed, make the switch to paper towels made with quick-growing, low impact bamboo and sugar cane! These rolls could be the biggest waste reduction swap you make this year. Try the Towels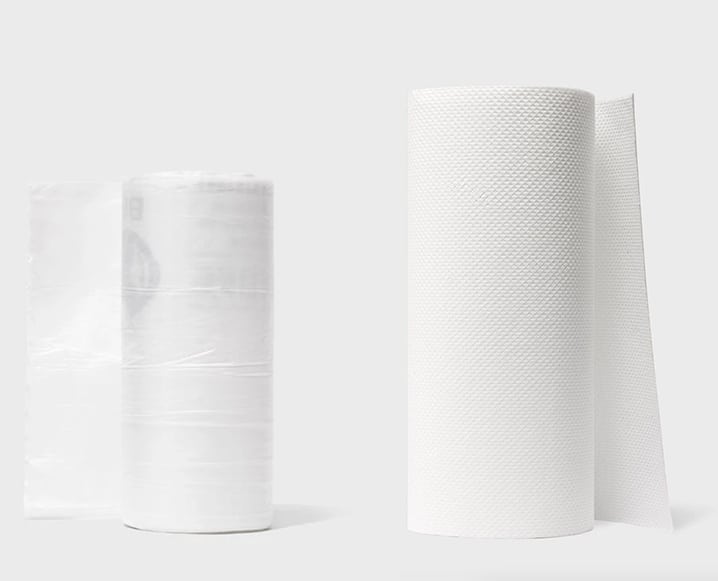 Refillable Hand Soaps + Staples | Sensing a theme here? Refillable products are the future and Public Goods makes a version for every basic need you've got from shampoo and hand soap to dish soap and laundry detergent.
If you're the type who is totally overwhelmed by the thought of going green at home with everything else on your plate, these refillables are just what you need — and they come shipped to your home on the cheap.
Don't skip the hand soap or dish soap! We love the rosewood, grapefruit and vetiver scent for the hands and Mandarin Basil for sink suds — made without parabens, sulfates or phthalates. Try the Refills 
Sea sponge + bamboo brushes | How committed are you to that gross mesh body scrubby? Swapping to a gorgeous-looking sea sponge like this one is the ultimate luxury, if you ask us. Let's make those mesh poofs into relics of a bygone era. The same goes for your plastic toothbrush: there's no need for it and — let's face it: it's ugly. Swap to a chic, natural bamboo version for a thoughtlessly easy waste-reducer that will add up to a large impact over time. Try the Brush
silk Dental Floss with Spools Biodegradable silk and mint wax come in a charming and eco-friendly glass bottle. We love the thought of adding style to your bathrooms with these eco-updgrades! These old school refills come in packs of three for a completely plastic-free experience. Try the Floss 
We've loved everything we've tried from Public Goods — especially the skipped grocery store trips. When makes it extra rewarding are all the simple, modern and matching containers that keep our minds free and calm to think about all the other things we've got to deal with in 2021.
Try Public Goods for $15 off your first order and load up on basic spring cleaning and pantry staples. Aim for a few new, more sustainable habits that we hope will last!