I'm so excited to share one of my favorite healthy salads with the Chalkboard Mag's fanbase. What a delight.
I chose this dish to launch my first post because it was one of the salads that I created when I went raw vegan a few years back. I am no longer 100% raw vegan, but was for a good year, and wow, it was an amazing year, to say the least. It got me hooked on dark leafy greens and in addition, all of my family and friends now make this at least once a month, if not once a week.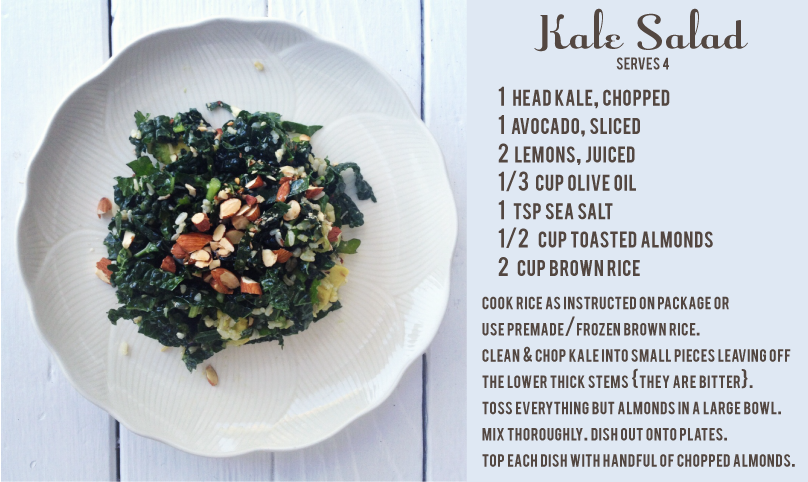 If you have ever eaten or made ceviche, you'll know that lemon and salt can give the illusion that meat is cooked. It softens meat by infusing it with moisture and flavor. It's a great trick for softening greens, as well. People can never believe they are eating RAW kale after I marinate it in olive oil, lemon and salt for about 1 hour. That's it!
You can add anything else to this kale dish that you might want. Usually, I add avocado, toasted seeds or nuts and brown rice. Adding brown rice makes it more of a meal or risotto type dish as opposed to just a salad. I find myself feeling very full after eating this dish. Leave out the brown if you are wanting just a light lunch or snack.
Once you make this salad, you'll start craving it. It's really weird. Plus, it's so easy, inexpensive and guests will love it, too. In fact, my 1.5 year old son used to eat this at least once a week. So cool! (P.S.  He doesn't do that anymore; he's 4 now and hates anything green unless it's in a smoothie.)
Note: if you're lazy, Whole Foods and Trader Joe's both sell organic frozen brown rice. Shh, nobody will ever know!