Last year, we heard that two creatives we love were joining forces to overhaul a home in the desert and we were immediately intrigued. Designer Claire Thomas (who also happens to be co-founder of our fave, Sweet Laurel) and director of photography, Yayo Ahumada have both been featured in or partners behind many TCM stories and events.
We knew that their latest creative collab, a desert oasis named Oeste Home, would live up to our lofty expectations and, oh boy, did they deliver. The stunning home, just a few hours from L.A., is available for stays through airbnb and, perhaps even better, live on Instagram for constant design and travel inspo.
We talked with both Claire and Yayo about the new space and how it came to be below…
What was the overall inspiration for oeste home? 
Claire: There are so many, but the root of it was my friendship with Yayo. It was inspired by our travels throughout Mexico, and the variety of culture, art, and experiences we've enjoyed there. Some rooms are referencing Luis Barragan and Mexico City, another is inspired by the colors of San Miguel de Allende, and another by the creation myth of Mezcal. I've worked as a director for almost a decade now, and love production design, so my approach to a space is always "How will it shoot?" Yayo, as a DP, is always focused on what the light is doing, so together we really zeroed in on how to make the house as amazing an experience in person as it is on screen or in a photo.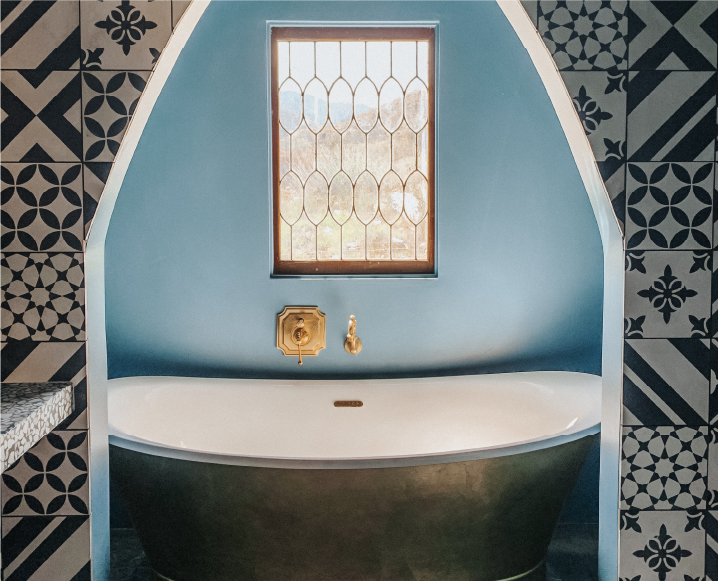 Yayo: My many, many trips to Mexico with Claire and my love of everything Morocco. Claire and I just kept saying yes to all of the crazy, amazing ideas and bold design choices. The fact that we are both visual creators really shows in the space. It's a testament of how well Claire and I work together.
Your favorite piece in the new home?

Claire: Ah this is a hard one. Every room has something special about it. I guess I'd have to say the comal light fixtures. On one of our trips to Mexico, Yayo and I had dinner at Pujol, and I noticed these beautiful plate sconces. As we travelled south through Oaxaca, we admired the clay comals used to cook tortillas and I asked Yayo if he would turn them into a light fixture. We packed a few in our suitcase and after a few weeks of tinkering he created these. They're so gorgeous – when the light is off, they are beautiful wall art, when the light is on, the create the loveliest ambient glow.
Yayo: The Comal light fixtures. The feeling of "it works!" is indescribable. But also the triangular tile indoor window breezeway was another piece that is so unique and getting the engineering right was a challenge which makes it so that it's a one of a kind structure.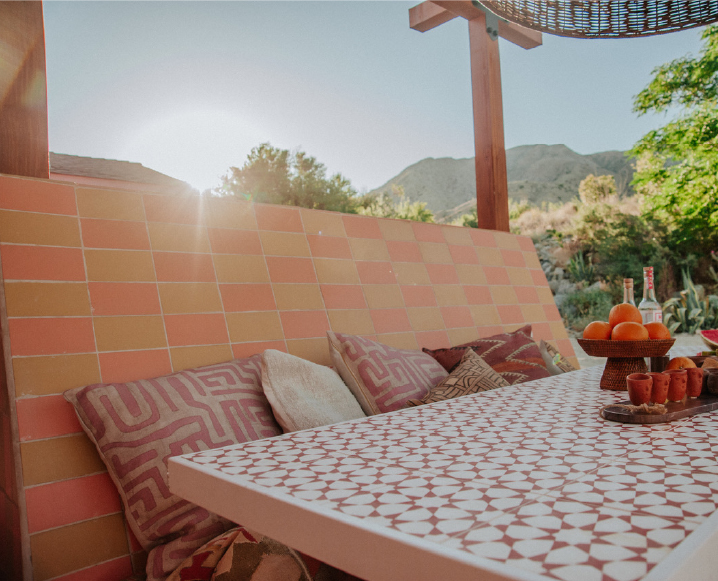 there are so many great moments in the space, from the outdoor tub to the built-in couch. What it your Favorite place to sit…
Claire: I saw a triangular seating bench on a rooftop patio in Marrakesh and loved the idea for seating – so much more comfortable that a stiff backed wall. I measured the angle on an Eames lounge chair (it's 115 degrees btw!) and we built the outdoor seating area to match it. It's the perfect spot to sit in the morning for breakfast or at night to admire the stars.
My favorite place to sit inside would have to be the circular window in the main bedroom. I knew from the beginning there would have to be a round window somewhere, and when I saw the view on the other side of the master wall, that had to be the place. You can watch the sunset perfectly between two mountains – it's just stunning.
Yayo: There is a hanging chair right on the pergola on the patio outside and at night time you can look up and spin slowly as you see the stars and the Milky Way through the ocotillo lattices on the roof of the pergola, it's a very special moment every time I get to sit there and admire the sky/
i Love the wood cabinet doors in the white kitchen! tell us more…
Claire: Whenever we travel to Oaxaca, Yayo and I stay at the same Airbnb with the most gorgeous kitchen. Concrete boxes, wood doors, and a pile of fruit on the center island. I basically tried to bring Oaxaca here. The counters are Laguna concrete slabs by Concrete Collaborative in Blonde and the doors are by Semi Handmade in Tahoe. I kept the hardware simple by using burnished antique knobs by Rejuvenation. When guests stay, we always have bowls of fruit in the kitchen, and want to create that same feeling of abundance as we experienced in Oaxaca.
Yayo: I never thought I'd own a custom fridge that has the wood fronts like at Oeste, it feels like such a luxurious design choice and I am all about it. The first time I got to cook in that kitchen was really the moment this crazy amazing project was finished.
Can you share your favorite "before and after" moment?
Claire: I think either the living room or the den. The living room was entirely clad in wood paneling and just so dark. I knew I wanted a big bench and an indoor planter. There's something about an indoor planter that feels like a flex. Originally I was going to plant a bunch of soft, tall grasses, but Yayo talked me out of it for fire safety, which…yes, much more practical.
I also think the cacti look gorgeous and add some structure to the space. The bench is made entirely out of Concrete Collaborative Terrazzo, and when we found out that doing a custom fireplace would break the budget, I reached out to Retro Bum, my favorite source for vintage fireplaces. I used Retro Burn to find my avocado fireplace at the Kitchy Cabin, and I texted the owner to see if he had anything white and more futuristic rather than MCM looking. This fireplace was perfect!
The den was once a garage, then a work room, and now it's an epic theater thank to Yayo's projector system. Boys love this room — they all react to the red. My favorite part of this room is that almost all of it is from my parent's storage unit or thrifted. The couch, the chairs, the rugs — it's all finding a second life here.
Yayo: There was not a part of the house that was not radically changed, but, if I had to pick, I'd say the patio pergola and the master bedroom.
The pergola because I had to figure out how to build it right as the lockdown hit. And the round window in the master bedroom is the perfect example of how me and Claire's mutual ideas mixed to create something incredible. I knew I wanted a round window looking into the mountains and Claire wanted to do built-in bookshelves so we did both at the same time! It was Claire's idea to make the round window a place you could sit and read a book and of course get your obligatory Instagram shot!
What was your Biggest learning from this project?
Claire: Ughhhh…that I'm bad at math and should never do tile? The last few months of the renovation was a huge 'will power' moment for us. Yayo ended up finishing and building so much of the house he could have a second career as a handyman at this point. The man started this process with the skills to figure out wifi, hang pictures on the wall — that kind of thing, and now he knows how to run plumbing, electrical, well engineering, and how to deal with a rattlesnake.
I learned that my ambitious optimism can work when you have incredible friends to pitch in and help. We wouldn't have been able to do it without our friends spending their weekends literally shoveling gravel to help us get to the end vision.
Yayo: If you want something done right, you have to do it yourself. Even if that means re-do'ing a bunch of stuff and spending hours watching You Tube videos.
I must have made at least 100 Home Depot trips. The badge of honor was that, towards the end, every single time I was at Home Depot a customer would ask me for help. I should have taken a before and after photo of myself!
This house looks like such fun. What is the perfect meal to have in this home?

Claire: Tacos! I would make carnitas tacos with fresh salsa verde and mezcal cocktails.
For before dinner: muddled strawberries, lime, chili salt, and mezcal
For after dinner: a mezcal manhattan – sweet vermouth, mezcal, and bitters with a cherry.
Yayo:
Mole, tacos and a giant serving of guacamole using the awesome
Molcajete
we brought back from Oaxaca. To drink, Claire's mezcal manhattan above!
Let's talk about the pink exterior for that desert pink moment…
Claire: Our contractor thought I was a complete psycho. "PINK??? REALLY?" Every time I'd go up there. But I couldn't be happier with how it turned out. The color is Rose de Mai by Dunn Edwards and is the exact color the hills turn at sunset.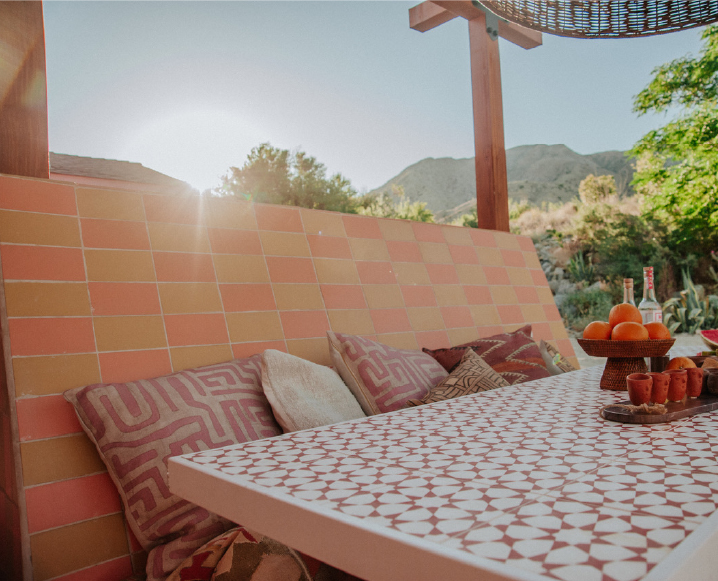 I believe in taking big swings, and I wanted the patio to feel celebratory, fun, and inspired by Mexico. In Mexico, color and decoration is woven into everything. Having a hot pink house is no big deal. There's a vibrancy and love of color that I admire so much in Mexican design, so being able to articulate that here was incredibly fun. Paired with the patchwork tile wall by concrete collaborative, non-slip tile floors by Fireclay, and my favorite swinging chair by Costa Coast — it's the part of the house that gets people the most excited to stay there.
Yayo: One of the contractor's kept saying "I would never do this" to some of the big, bold, choices in the house. And I kept telling him "That's why this house is awesome, because people don't want to make big, bold choices." This is why people love going to Mexico and Morocco, but now you can experience it close to home.
What are your favorite spots to visit in the area?

Claire:

Enjoying the property itself can be really fun: Our property is filled with wildlife, so we like sitting in the master window or in the living room while rabbits, road runners, and quails wander past the windows. Take a walk on our property to experience acres of native plants. At night, turn off the house lights, grab a blanket, and star gaze (you can see the Milky Way!).
For a real hike, Sand and Snow Monument is over 100,000 acres of pristine Sonoran desert landscape that is home to 12 endangered species and cultural heritage sites.
Pioneertown, once the backdrop for old westerns, still stands and provides a gorgeous drive through incredible rock formations leading to this quirky, fun location.
Desert Christ Park is filled with odd art installations, and this is one of the best. Joshua Tree National Park is magnificent and the Integratron provides a sound bath and a new perspective.
Frontier Cafe: An organic cafe with excellent BLTs, potato salad, and more health minded food.
C & S: A classic diner with excellent waffles.
Pappy and Harriet's: An incredible saloon with live music, chili fries, and beer in the heart of Pioneer Town.
La Copine: Delicious farm to table cuisine with an excellent wine list. 8 Star Cafe: Cute Korean cafe with golden fish waffles!
Yucca Kabob: Delicious mediterranean food.
Jelly Doughnut: The best apple fritters and Thai iced tea.
La Palapa: Great Mexican food with delicious salsa. Desierto Alta: A chic little bodega with the best snacks.
Wine and Rock Shop: Our favorite shop in the desert! A wonderful array of wines, gifts, and un expected treats.
Want more design and travel thrills? Explore all our favorite design inspo here.