Beloved L.A. artist and designer, Justina Blakeney recently released her third book, Jungalow: Decorate Wild. Throughout the book Justina shares insights on achieving her new boho style – how to make bold color choices, take cues from nature, glean inspiration from heritage and travels, break rules, and all the other paths to truly decorate wild.
Along the way, Justina also shares personal narratives on her upbringing, practical advice, and nuanced insight into how she lives in her own space—how she reconnects with nature, how she plays and stays inspired, how she gives herself permission to feel free and wild, and how readers can do the same.
We asked the Jungalow queen to share more about her style lately with us…
Favorite 3 elements in a well-designed room: Color, pattern and balance!
My signature touch is… Nature-inspired motifs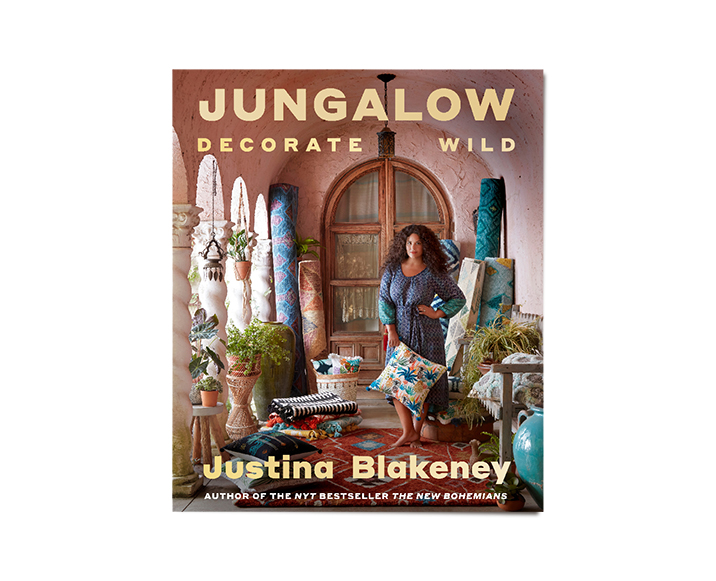 Favorite design trend right now: Curves
Trend you're ready to see go: All white (or beige) interiors
Biggest decor mistake most people make: Thinking there is a rule book they need to follow.
Design rule you love to break: All of them!
Favorite green or eco design tips: Upcycling textiles into pillows, curtains, seat cushions or quilts. I love Kantha quilts from India because they give older pieces of textiles a new life.
Favorite natural materials: Rattan and clay
Tips for creating an intentional space… If the space is somewhere you want to feel energized, bring in elements that give you life – for me, that is sun motifs and lots of natural light. If the space is meant to be more calming, introduce grounding elements like a soft shag rug, floor pillows and wooden accents.
Favorite home shops… Other than Jungalow, I love searching for vintage furniture on Chairish, and here in L.A. I love to visit Badia Design for Moroccan home decor imports (their lighting selection is totally amazing).
Favorite current design project: Can't talk about it yet,  but you'll be hearing about it this summer!
Item that instantly upgrades a space… Plants
Current design mantra: Decorate wild!
Want more designer insights? We've got you covered here!