Smoothies are usually beautiful even when they're plain. But add the artful attention of a design blogger or two and now you've got something next level.
We've been seeing layered smoothies around town since DesignLoveFest partnered with Alison Wu to create two pretty pastel masterpieces below. We spotted the trend again at Cherrybombe Mag's jubilee in LA where they served strawberry rosewater smoothies with an adorable cherry design.
Try the adorable food styling trick we're seeing everywhere in the smoothie-o-sphere by laying sliced fruit into the side of your glass before pouring. Here are a couple of stylish examples we love from bloggers and editors we adore. Unfortunately, you can't take a sip off the screen, but can feast your eyes on a few of our favorites….
How cool is Cherrybombe Mag? So cool. We adored these berry-as-cherry designs in smoothies at their Cherry Jubilee here in L.A. Strawberry rosewater smoothies were served with two slices of strawberries on the inside and a flash of Sharpie on the outside (of course!) These adorable smoothies were whipped up by The Jewels of New York and Anita's Yogurt – as delicious to sip on as they were pretty to ogle at. Learn how to make it here!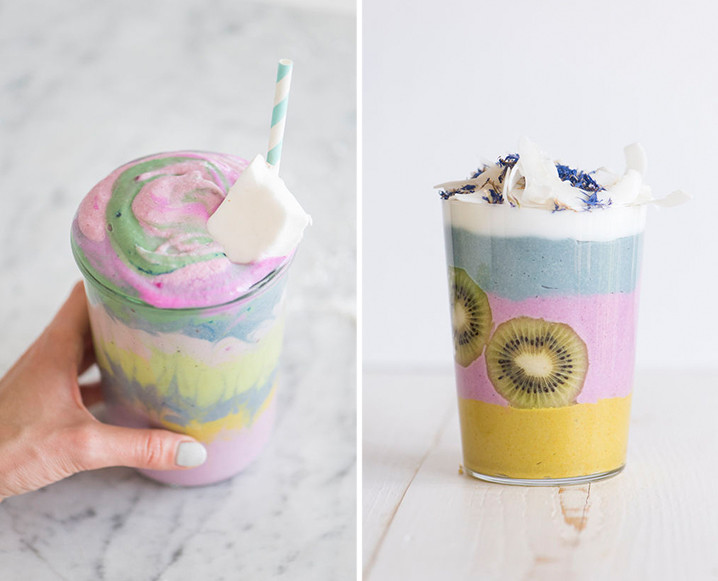 These modern pastel smoothies are otherwordly! Made in collab by DesignLoveFest and "smoothie artist" wellness blogger, Alison Wu, these colorful drinks are almost too pretty to drink. Almost…
Carefully sliced and laid into the side of the glass, these kiwis turn the layer smoothie look into a full on design experience. Nevermind the edible flowers, bee pollen, and coconut shavings. These  natural accents take an already luscious layered smoothie and turn it into a work of art! Which one is your fave?
Have skills with your post-blender works of art? Show them to us by tagging your social posts with #thechalkboardeats!