Does changing your skincare through the seasons seem like a high-maintenance habit for product junkies only?
Let's just remind you about the last time you hit the beach with your layered skincare and broke out. Or the time your favorite concealer dripped from your face while on vacation?
That's right — 'summer-izing' your skincare is a legitimate thing if you want to even basically maintain good summer skin, especially when the temps are record-breaking!
We've pulled a few lightweight moisturizers, flexible luminizers, plus a break-out potion we swear by for you to check out. We hope they'll help you through this season of heat waves…
6 Key Products for Good Summer Skin
KORA organics Noni Glow Body Oil | Miranda Kerr's body oil is light-weight, but power-packed. We love this oil for it's clean, skin-strengthening ingredients. Keep up a good post-shower routine with this stuff while skin is still barely damp and arrive in the fall with skin that's healthy, not parched as can be. SHOP NOW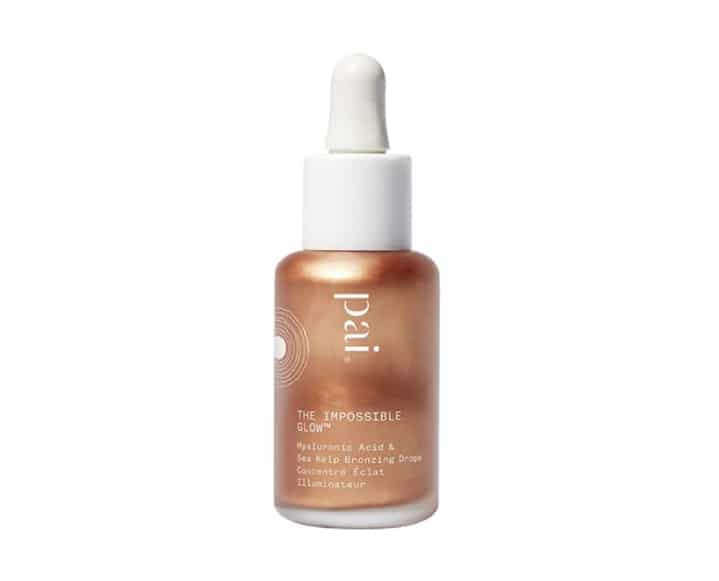 PAI's the impossible glow | Isn't this bottle irresistible? This is what we want to see on our bathroom vanity's this season and tucked into all our summer luggage.
Everything Pai makes is specifically designed for sensitive skin which makes the Impossible Glow the perfect product for overly warm months. Lightweight and illuminating, these bronzing drops can be mixed with sunscreen or daily moisturizer for a glow that's also wrapped up in hyaluronic acid. SHOP NOW 
OSEA Hyaluronic sea serum | Speaking of hyaluronic acid, we know you've heard the hype, but if you've never tried — this is the serum for you. We always return to this gel-like serum for the perfect layer of moisture under cream or oil or on it's own very super-sticky days. SHOP NOW 
ILIA Super Serum Skin Tint | ILIA was a TCM team favorite far before they launched Super Serum Skin Tint, but this product seems to have sky rocketed the clean beauty brands status big time! This moisturizing oil is richly tinted with the color and coverage you need (with 30 available shades!) and a potent SPF 40. SHOP NOW 
KYprIS beauty Clearing Serum | This breakout-quelling superstuff is hand's down the best clearing serum we've tried. The tiniest drop quickly banishes breakouts without irritation or peeling. We've featured it so many times here on TCM, but just can't stop. A blend of soothing and clearing herbal ingredients are just what every face needs this summer. SHOP NOW 
Herbivore After Sun Soothing Mist | Take this lightly hydrating and soothing mist to the beach and keep it in the cooler. Mint, lavender and aloe will soothe and hydrate, plus refresh your senses, which is half the battle in the heat. Use it at home to soothe skin at the end of a hot day. SHOP NOW 
This story is brought to you in partnership with The Detox Market. From time to time, TCM editors choose to partner with brands we believe in to bring our readers special offers. The Chalkboard Mag and its materials are not intended to treat, diagnose, cure or prevent any disease. All material on The Chalkboard Mag is provided for educational purposes only. Always seek the advice of your physician or another qualified healthcare provider for any questions you have regarding a medical condition, and before undertaking any diet, exercise or other health-related programs.