Famed singer Haddaway once sang, "What is love? Oh, baby, don't hurt me. Don't hurt me, no more." He was probably referring to the inedible chocolates and wilted blooms people receive at some point during February.
Why not change how you spread the love in 2022? If you've run out of options (and KISS ME heart candies), Foria's award-winning organic plant-based formulas for intimacy have got you covered.
When it comes to personal wellness products, there's a pretty narrow margin on appropriate gifts. Some products are just more fit for private errand pick-ups, others so risque you might be taking a relationship risk by wrapping it up. 
In the sweet spot? This collection of personal wellness gifts from Foria – one of the only brands in the space we really get it up for. So to speak. We even found feel-good ideas you can gift your mom or work bestie… 
The Feel-Good February Gift Guide
Foria is the only personal wellness brand we know with marketing emails worth texting friends about. The plant-based, hemp-infused brand is famously closing the pleasure gap for women and getting a lot of people talking. Think intelligently formulated products that serve to remove shame and physical barriers between you and your best life. Here are some of our favorite picks for gifting (their cult following agrees!). 
FOR YOURSELF (OR BFF) | Awaken Arousal Oil with CBD
For all of your besties, this cult-status oil is what put Foria on the map and encourages a stress-free mind-body connection you've got to try to understand. Awaken, also known as the ultimate pleasure pregame, is Foria's famed bedside table product, thanks to sensation-bringing ingredients like kava root, cinnamon, ginger, cacao, and peppermint. Your friends won't need a partner to enjoy this combo's potent benefits. SHOP NOW
FOR LUVAHS | The Quickie Kit
New to CBD in the bedroom? This kit is jam packed with some of Foria's bestsellers from the Intimacy collection in deluxe mini sizes that are perfect to tuck into evening bags, overnight luggage and that shelf in your luvah's medicine cabinet. SHOP NOW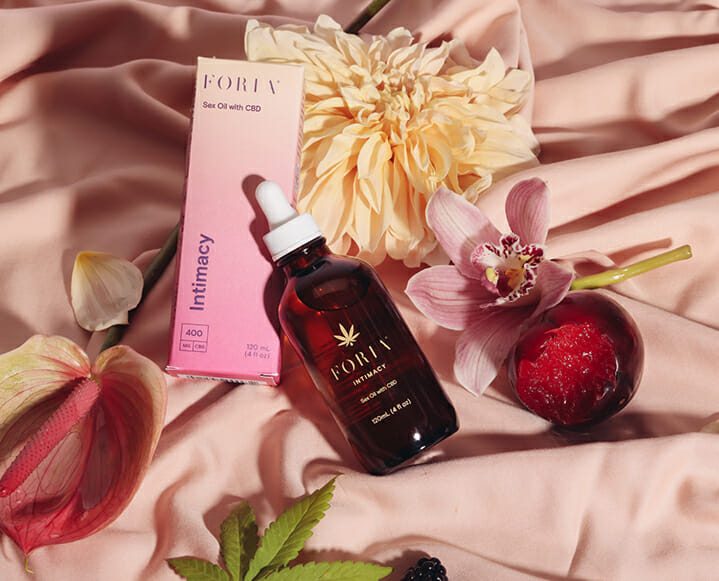 FOR YOUR PARTNER | Intimacy Sex Oil with CBD

Looking to spice things up in the bedroom with a long-term partner? Add Foria's organic Intimacy Sex Oil to the mix to take things to the next level. With nearly 500 five-star reviews you can read for yourself, it's like Foria has bottled lightning with this one. The gift they'll remember fondly for years to come. SHOP NOW
FOR YOUR MOM (OR ABSOLUTELY ANYONE) | Intimacy Bath Salts

Perfect for the non-romantic loved one in our life, Foria's botanical bath salts will melt away all stress and tension (if for your mom, it's basically a way to say "sorry" for all of your teen years — you know the ones). Infused with hemp, mineral-rich epsom + himalayan salt, organically grown kava, cacao, and rose, these bath salts will ease the body, warm the heart, and entice the spirit.
Time to cancel that floral order, return the stale boxed chocolates, and let the pleasure run wild. Move the needle for the ones you love this year, and give them the gift of feeling great. SHOP NOW
Shop all our giftable ideas for 20% off! Now you can get the products that caught your eye, plus consider adding an extra bath salt to tuck away as a last-minute gift! Take Foria up on their offer with the code WITHLOVE.
*Applies to first time purchases only. Doesn't apply to bundles.
This story is brought to you in partnership with Foria. From time to time, TCM editors choose to partner with brands we believe in to bring our readers special offers.
These statements have not been evaluated by the Food and Drug Administration. The Chalkboard Mag and its materials are not intended to treat, diagnose, cure or prevent any disease. All material on The Chalkboard Mag is provided for educational purposes only. Always seek the advice of your physician or another qualified healthcare provider for any questions you have regarding a medical condition, and before undertaking any diet, exercise or other health-related programs.