Tucked into the mountains of San Jose del Cabo — just a two hour flight from LA — is Flora Farms: home to 25 acres of organic fruits and veggies, a farm-to-table restaurant that uses them, and a luxe private cottage community equipped with a spa, yoga studio and exclusive "harvesting privileges" for the residents. It's not an easy spot to get to, but thats part of the charm. One minute you're winding through a maze of cacti and dust, and the next you're pulling up to a lush green paradise where an heirloom carrot margarita awaits.
Flora's Field Kitchen is the farm's on-site seasonal restaurant. Nestled amongst a blur of sunflowers, kale and mango trees, it's not just a place to eat but a complete sensory experience — like stepping into a Pinterest-styled cocoon of veggies, string lights and live acoustic music.
The diverse daily menu uses ingredients literally grown next to your table, and features everything from rainbow salads and woodfire pizzas to roasted chicken and pork (raised ethically on their 150-acre ranch around the corner) that'll set a new standard for how meat should taste. Wash it all down with a colorful cocktail; whether it's a lavender martini or grilled citrus sangria, you can't go wrong.
If you're still in need of a veggie fix after the meal, there's Flora Farms Grocery — a mini market adjacent to the restaurant stocked with Flora's fresh and organically grown and raised produce, meats, eggs, breads, sweets, pickled goods, sauces, dressings and preserves.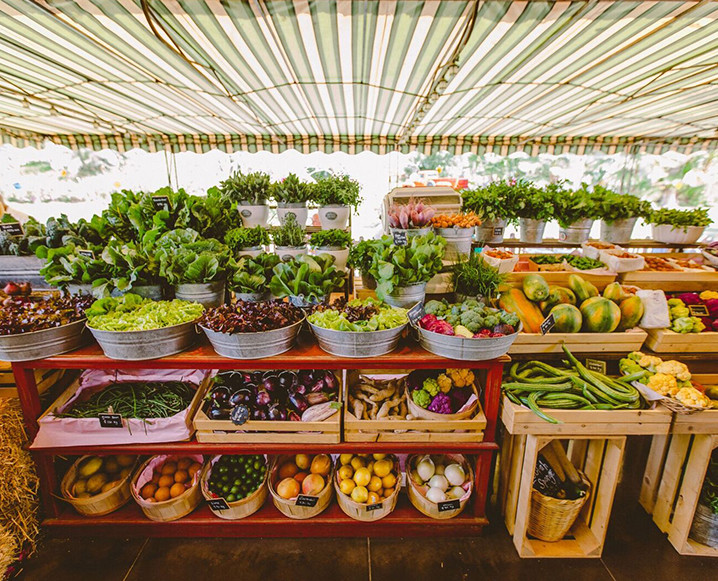 A meal at Flora's will inevitably have you wishing you could live there — and for some, that dream meets reality with the farm's culinary cottages: ten handcrafted luxury modern-rustic mini-homes, cozied into a private community that features every vacation amenity you could wish for plus exclusive "harvesting privileges" that allow access to the bounty of produce grown on site. These residences are invite-only, but we can dream…
The temptation to keep this little piece of heaven under wraps is as real as it gets, but we decided to gush instead. Peek below for a glimpse into the magic of Fora Farms.
Planning a summer getaway? 
Check out our guides for London, Portland, Seattle, Big Sur, Ojai, Napa, Santa Barbara and Las Vegas.