What if we told you the secret to a flawless face was literally at your fingertips. Here's your happy news for the day: it is. We asked Hollywood's holistic skin whisperer, Allison Marks, to talk to us about facial acupressure, and how to put it to work at home. The process is simple, soothing and has some major benefits – from wiping away fine lines and blasting stagnation to boosting energy and bringing it into balance. Learn all about key facial pressure points below…
Sometimes even the best products are not enough alone to cure skin problems. Many of us regularly receive body massages to relieve tension but don't think of the face in the same way. Pressure-point massage combines lymphatic drainage to eliminate toxins and relax facial tension. The technique improves circulation by gently enhancing the metabolism of the skin while relaxing strained and tired facial muscles. The movements work along the lymphatic points of the face, pumping out stagnant fluids that often cause puffiness, sallowness and sluggish skin, therefore hindering vitality and radiance. All skin types benefit, from the most sensitive to acne prone and aging.
Perform the routine below any time of day to help soothe, revive and rebalance your energy (e.g., after staring at your computer or to enliven your face before an evening out). Just make sure your hands are clean before touching your skin!
Facial Pressure Points Massage for Beauty
Perform each movement three times, holding for a count of three breaths while using the cushioned pad of fingertips. Exhale as you press on the point, release while inhaling.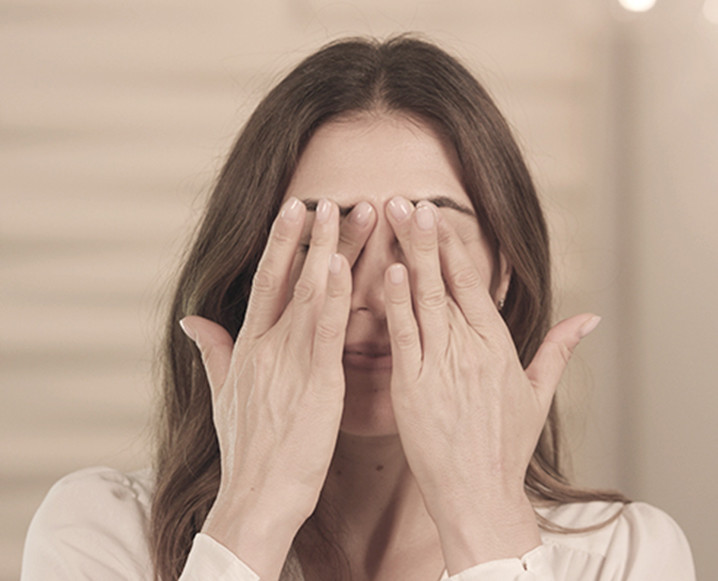 Pro Tip: Place a few drops of facial oil into palms and inhale for  aromatherapy benefits before the pressure point massage. For aging/lackluster skin, use geranium, rosewood and orange. For congested/acne breakout-prone skin,  try ylang ylang, lavender and cedarwood. For sensitive skin, choose lavender, sandalwood and geranium.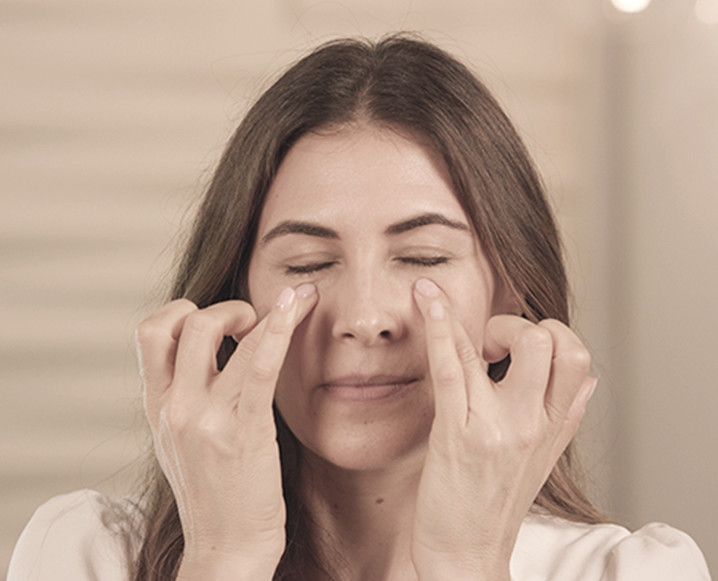 Eye Area | Apply pressure above and under the eyes. Begin at inner eyebrow, move to hollow at middle of eyebrow, out to temple, finishing beneath the middle of the eye area on the hollow at the zygomatic bone.
+inner eye socket: pain and swelling in eye area
+mid eyebrow: sinus and headache relief
+temples: tension headaches
+under eyes: helps relieve eye pressure
Benefits: Working around the eyes is favorable as this is the area responsible for frowning, squinting and wrinkling. Releasing pressure here assists with eliminating aging signs like crow's feet, deep lines and wrinkles.
Nose | Press at either side of the nostril.
Benefits: Clears sinus tension and allergies.
Cheeks | Release and slide to the 'glow point' beneath the cheekbone.
Benefits: Helps ease tension in cheek and jaw.
Ears | Glide to the hollow just in front of the ear and press.
Benefits: Releases tension in the jaw.

Lips | Use fingertips from both index fingers on middle of lip, moving out towards edge of lip. Continue pattern to under lip, finish at middle of lip, press and release. (Photo not included.)
Benefits: Releases tension held in the lips.
Jaw | Press and release at center point of jaw.
Benefits: Releases jaw tension from grinding teeth.
Neck | Glide down the neck with open fingers towards the collarbone.
Benefits: Drains and carries away toxins within lymph fluid.