We've been lucky enough to spend time on some seriously beautiful farms, from this tropical chocolate plantation to Gaia Herbs' sprawling Carolina farm. As we began dreaming about the best of what we'll eat this season, our favorite farmers came to mind. Below, we've gathered ten glorious fresh from the dirt recipes from our favorite farm dinner memories. From veggie-loaded cocktails to rainbow-flavored appetizers, find something to make this summer for family and friends…

Heirloom Tomato Cocktails | Matthew Biancaniello uses foraged ingredients from the Santa Monica mountains, herbs he grows in his own garden, and just about anything you'd expect from a food chef in his exotic cocktails–handmade, uni-laced alcoholic ice cream included. We're so intrigued by what Biancaniello is up to we asked him to share a few of his bar tricks for those of us who love to shake it up for parties at home. Read his tips and get one of his famous farm-to-glass recipes. READ MORE
Roasted Garlic Butter Tomato Toast | Monique Otero from Brunchpants gives us the scoop on a NYC farm setting the bar high for the dairy industry – and shares a recipe for garlic butter tomato toast that will rock your world.READ MORE
Roasted Beet Carpaccio | Sprawled atop the Malibu hills with an expansive view of the Pacific, One Gun is a biodynamic farm that has us and a few A-list fans ready to get back to the earth. Alice Bamford and Ann Eysenring have created a unique ecosystem on their property and a cookbook that we can't put down. Enjoy these two root veggie recipes straight from the book's biodynamic pages. READ MORE
whole Orange Vinaigrette
 | We recently spent the weekend with the family behind Flora and found ourselves thrilled and comforted by the trend-proof legacy of their oils, teas and herbs. This gorgeous dinner on the Thorne Family Farm was a piece of heaven. Dinner was served by adorable mother and daughter duo, 
Bites and Bashes
. Their bright citrus vinaigrette is perfect atop a 
farmers market
 salad and is packed with Flora's world-class Udo's Oil (a smart blend of omega 3, 6 and 9). 
READ MORE
salt water farm's Baby Beet Salad 
| This baby beet salad uses both the sweet bulb and the nutrient-dense leaves for a summery salad we couldn't wait to share. The recipe comes from 
Full Moon Suppers
, an utterly charming new cookbook by the founder of 
Salt Water Farm Cooking School
,  . Growing up on a farm on the coast of Maine — where food was central to family gatherings — taught this chef all about making the most of the seasons; not just by using what is growing at the moment, but finding delicious, creative ways to waste as little of it as possible.
READ MORE
Ten Herb Salad With Toasted Seed Crumble |
Rebecca Hessel Cohen of LoveShackFancy partnered with 
chef Megan Huylo
 of local favorite, Bhumi Farms for a delicious dinner on her orchard. Guests enjoyed dishes of marinated heirloom tomatoes, cider-poachd peaches and other local wonders, along with this ten-herb salad recipe below. The ingredient list is long, but worth it – and worthy of a lovely afternoon at the farmer's market if you can swing it. 
READ MORE
Miso Cauliflower + Snap Pea Rice Bowls | 
Andrea Bemis is the face behind blog 
Dishing Up The Dirt
 as well as 
Tumbleweed Farm
, an Oregon farmer's market and restaurant-serving farm she runs with her husband. Her Miso Vegetable Rice Bowls that keep her sane and satisfied after a long day's work. 
READ MORE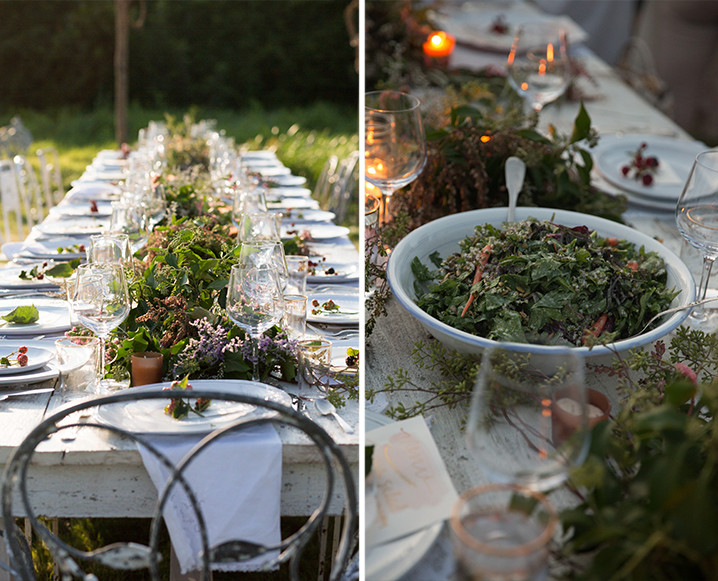 An olive farm's Thai Lemon Basil Vinaigrette |
We asked the team at 
Pasolivo
, an award-winning organic olive oil producer nestled into California's Central Coast, to share a little peek at what life on a sustainable olive farm is all about. Their olives are hand-picked and pressed within hours to produce a fresh-tasting olive oil that's been praised by everyone from Bon Appetit to the New York Times. T
ry their recipe for a basil and lemon-infused olive oil dish perfect for summer dinners. 
READ MORE
Raw Chocolate Almond Butter Truffles |
This simple truffle recipe was just one of many chocolate recipes we made with the culinary team at Jade Mountain led by James Beard award winner, Chef Allen Susser. After touring the property's cacao farm (over 600 acres!) and harvesting cacao pods fresh from the tree, we walked through the intense process that chocolate goes through to be ready for consumption. These truffles were one of our favorite rewards of the day. 
READ MORE