The boom in vegan restaurants just won't stop. 2020 may have thrown a major wrench in things, but the growth in vegan offerings is still remarkable and, however the restaurant industry evolves from here, we don't expect the trend to slow down. The latest new spot to catch our eye is Counterpart Vegan in LA's Echo Park neighborhood. Chef and owner, Mimi Williams' has crafted an eight-course tasting menu to rival some of the best experiences in the city and we love her take on modern dining's most famous feature.
At their best, good tasting menus lets us tour a chef's skills in full — and vegan versions of this uber-modern experience are hard to find. The vegan tasting at Counterpart is available on Friday and Saturday nights and stars Chef Williams' Sicilian-Creole heritage with plant-based pastas, 'cheeses', and vegetable carpaccios. We asked Chef Mimi to join our 'In the Kitchen with…' series where we get into the eating and cooking habits of chefs from Rene Redzepi to many of our favorite chefs across California. Here'e Mimi…
Name: Mimi Williams
Restaurant/project: Counterpart Vegan
Why veganism? Veganism is a style of cooking that knows no bounds. You are able to manipulate plant matter to anything you can think of. It is not a replacement or substitute for meat and dairy. It is a different platform, a different way to experience food outside of what the general expectation is.
Fave ingredient: It's a toss up between tofu and cashew nuts, they can be used in so many different ways, making tiramisu and feta cheese
Best food memory: Eating freshly baked bread as a child, warm and straight out of the oven!
Go-to clean proteins: Tempeh
Your idea of an ideal dinner setting: Lots of smoked and toasted nuts, dried fruits, spreads, and bread. I like to eat like a squirrel.
Signature entertaining detail: A variation of finger foods. I want my guests to have many choices to just graze at while they enjoy their cocktails and company. I'm not big on heavy dinners.
Fave cookbook: The art of fermentation
7 recipe staples always on hand: Bread, cheese, egg replacements, seitan, a flavorful marinade, coconut whipped cream, and a sweet treat.
Midnight snack perfection: Veggie dip or hummus with carrots and cucumbers
Food you love to eat with zero prep: Great bread and butter
Always in my fridge: Plant-based milk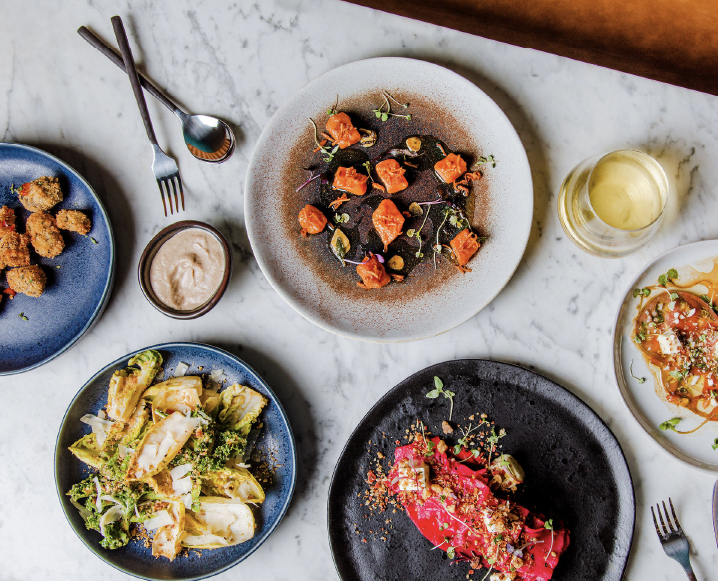 Must-have kitchen tool: A stand mixer
Must-have munchies: Anything crunchy! Dehydrated veggies, pita chips, and popcorn!
Fave condiments: Zhoug, harissa, roasted garlic spread
Favorite splurge:  A smoker
Best bargain tip: Choose only what you need when grocery shopping, the most simple and affordable meals are the healthiest because they only require a few ingredients.
Best label-reading tip: Read the label thoroughly; usually, the less ingredients, the better.
Fave veggie + what you make with it: Beets! We have a vibrant roasted beet pappardelle on our tasting menu that is rich in flavor, color, and nutrition.
Craziest thing I buy at the market: Spices. The best investment is in a wonderful array of spices that can change the entire flavor profile of a dish.
Simple go-to recipe: My veganaise. Its 4 ingredients and straight to the table. Tofu, salt, sugar, and apple cider vinegar.