The long story short on wellness and nutrition these days is that you can have it all, you just need to eat the clean version of what it is you love in every meal instead. Now, this is a massive over-simplification, but it is essentially true. Most of what 'clean living' entails is an undoing of many of the processes and unnatural ingredients involved in our everyday foods and drinks: grass-fed meats instead of industrial, non-GMO fruits and veggies instead of conventional, and naturally-produced organic wines in place of commercial.
According to our wine guru, Helen Johannesen, "Mass-produced wine is full of awful chemicals and stabilizers and just plan old crap. Corn syrup gone bananas. Buying from specific importers can help avoid that gnarly hang over you get after only two glasses of wine… Its not a mystery, you basically drank battery acid. Bottom line, be careful."
With everyone at home more often and looking to minimize their time spent shopping, we've seen a slew of new wine delivery companies pop up. Here are a few of our faves, including the not-so-new industry standard, Dry Farm Wines…
Argaux | Friends Arden and Margaux are the sommeliers behind Argaux, a new online only wine shop offering an interesting variety of wines from small growers. Having just launched this spring, the new brand decided to offer Quarantine Edition Blind Tasting Kits (the ultimate party plan with your long-lost wine nerd friends!). They're also just one session in to their 4-session Summer Tasting Series "focused on the various styles of wine produced around the world, how they are made and what makes them different." Join and receive a shipment of wine you'll taste on 3 additional 45 minute calls with the founders.
Dry Farm Wines | Dry Farm Wines contain no sugar. How? Read our story here for the full scoop. Dry Farm is one of the most trusted resources for biodynamic natural wines out there and the shop is filled with new things we've never tried. Dry Farm Wines has a subscription service available, but also offers one-time shipments of whites, reds or a mix of bottles.
Good Clean Wine | Another pair of friendly founders, Courtney Dunlop and Michelle Feldman created Good Clean Wine with the goal of drinking wines "that make us feel good today and tomorrow!" These women have been on a mission to strike out hangovers everywhere and they're doing it with delicious, Italian-made wines at $20 a pop. They produce only a White, Red, Rosé, Spumante and Spumante Rosé — all bottles are organic, estate bottled in small batches, made with minimal intervention and no additives. A case for the home will set you back $240 and we recommend including plenty of their sparkling rose!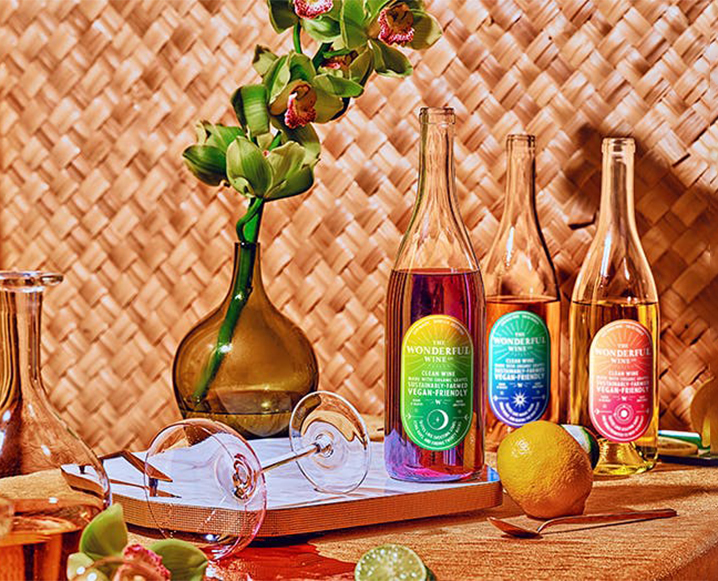 Wonderful Wine Co.| Wonderful Wine Co. is another brand new wine offering produced by the founders of Winc. The brand claims, "it's basically as good for you as wine gets (and it tastes really good, too.)" They're not wrong. Wonderful Wines are made without pesticides, are bottled without added sugars, and are vegan-friendly, low sugar, low carb, and low sulphite. The small collection of wines are easy to drink and a responsible choice for lowering your body's toxic load overall – extra sugars included. We love the rose.