During the summer of 2020, travel plans changed across the globe with airports and resorts at a near standstill for months at a time. Yes, we know it was just weeks ago and, yes, we're still working from home, but somehow putting the season in past tense gives us just a glimmer of hope that we're closer to the other side of this pandemic!
While trips to Disneyland and dreamy itineraries across Italy were all but totally cancelled, one plan prevailed; the old-fashioned road trip.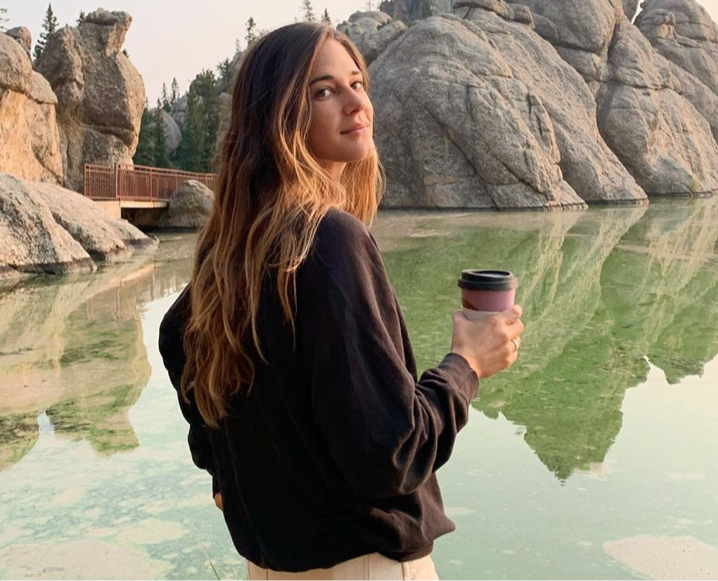 Model Ally Walsh and her musician boyfriend, Casey Wojtalewicz were among the many who decided to hole up on wheels and spend the summer crossing the country with a focus on the great (and sparsely populated) outdoors. Ally and Casey are Canyon Coffee, one of our favorite coffee brands of all time with coffee shop-based travel guides from Copenhagen to Tokyo that we can't wait to make the most of once our travel plans resume.
Having recently traveled the country in their cozy van set-up, we asked Ally to share how she eats clean and lives well, even while far away from the amenities we feel tied to here in Los Angeles. Here were her responses…

fashion on the road | I love Janessa Leoné's new packable hats for traveling because they're lightweight, but super durable. You can kind of throw it one in the back seat or tuck it in your bag and it somewhat miraculously holds it shape. It's also great for when I'm outside all day because it has high UPF protection so it keeps my face, neck and shoulders from getting burnt!
I've also been living in the Penny jumper from Christy Dawn since I got it! Lightweight, comfortable and casual
the Coffee Set-Up | We like to bring our full coffee set-up with us on the road. We actually just pack a basket with everything we need: kettle, Chemex, filters, and coffee. Scale optional! With the camp stove, we can make coffee in the outdoors the same way we make it at home.

Travel Ceramics + Tumblers | I really love and prefer ceramic mugs, and we just started carrying these travel mugs made by our friend Lucy Michel! I also usually bring one of our Kinto travel tumblers to keep the rest of the batch hot. Very important to pre-heat your mugs and thermoses with hot water before pouring coffee in to help keep them hotter longer!
supplements + potions | Being on the road can tire your body out as you're going through changing climates and altitudes. These are my daily immunity boosters.
The Potions and Motions Elderberry Herbal Elixir by my friend Courtney is grown and harvested from her family's farm in Northern California and I look forward to it every day for its health benefits but also because it's delicious! I consider that and the Lypospheric Vitamin C like preventive health measures just to keep my immune system strong and healthy!
Journal Notebook | Traveling allows me to step outside of the daily hustle-and-bustle of work in Los Angeles and reflect. I feel like it's the best time to journal and both reflect on the past and think about what I want for the future! I love the journal cases that designer Agnes Baddoo and Paper Chase Press made together.
good reading | I feel like a good book can make a trip, and vice versa. Recently been reading books by Anne Morrow Lindbergh and Uta Barth.
Skincare on the road | I also love Lesse Face Mask and Oil. I use these products daily at home, and they're easy to take on the road. I love Everyday Oil to keep my hair and skin moisturized. Especially on mornings when we're camping and a shower or sink isn't immediately available, it's a nice automatic refresher.
Hand Sanitizers and Face Mists | Especially pertinent during COVID. Very key to sanitize after any gas fill-ups or pit stops. I love OSEAs face mists, they're such a refreshing spritz — especially when we're driving through dry desert country.