Bury those supply chain woes, swipe on a good red lip and head for the canapes. We're looking forward to holiday party season this year and we know you are too.
We're rounded up seven essential clean makeup picks for holiday party season like no other…
7 Clean Makeup Musts For Holiday Parties
La Bouche Rouge Matte Red Refill | If there's ever been a year to throw on a classic red lip, this is it. Pull off a matte red lip with our French makeup obsession, the chic and refillable, La Bouche Rouge. These sustainable, leather-bound beauty essentials make great gifts, but they're too good to skip for nights out ourselves.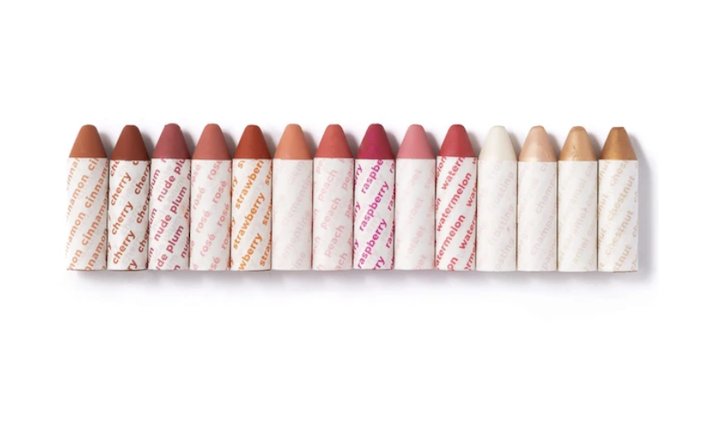 AXIOLOGY SUPER FAN PACK | Axiology made a big move a few years ago and cut their packaging down big time. By reducing waste they accidentally created the cutest lipsticks ever in these pastel crayon-like chubbies. You get the same amount or product (see the chart), but none of the extra packaging. Do we need this Super Fan Pack of fourteen shades? No. Do we want it? Oh, yes.
Pai the Impossible Glow |This hydrating bronzer made The Detox Market's Best of 2021 Box this year and we agree! Get a hydrating dose of warmth and radiance from liquid bronzing drops designed for sensitive skin. Pai's product can also be found in this incredible beauty set in our 2021 Gift Guide. 
KJAER WEIS Lip Pencil | If you're going to do a bold lip this season, start with a good lip liner to keep everything in place. Seal with the lightest layer of translucent powder to set color so it won't fade or travel! Kjaer Weis' pencil is one of the best in the business. 
RITUEL DE FILLE Ash and Ember Eye Soot | Little in the clean beauty world says 'night out' like Rituel de Fille's Ember eye soot. Each smudgy color is better than the next in flattering tones (as shown in the lead image) and housed in pots covered in starry nights.
LILY LOLO Laid Bare Eye Palette | Who can resist a palette? Lily Lolo creates our favorite versions — perfect for a smoky eye as tame or dramatic as you choose. Bonus points: the formula is free of all the nasties in conventional eye shadow (you'd be surprised).
One Love Organics Vitamin B Cleanser | Think ahead to the end of the night and make it as easy as possible to peel that party face off. Our forever favorite, One Love Organics cleanser will remove every trace of makeup without a big to-do and will bless your skin with vitamins at the same time. 
This story is brought to you in partnership with The Detox Market. From time to time, TCM editors choose to partner with brands we believe in to bring our readers special offers