Baking a traditional pie can be a pretty major undertaking. If you're not a pro baker (or simply have a million other recipes to make this week), we suggest trying your hand at a rustic crostata instead.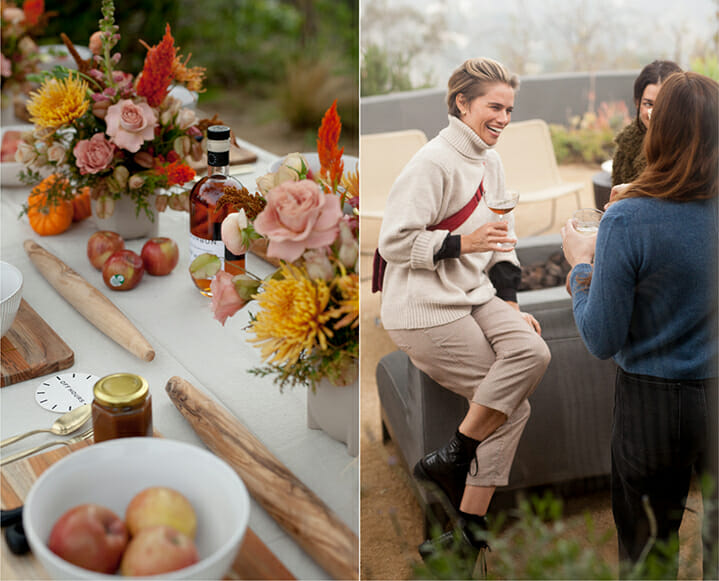 This version by creative multi-hyphenate, Claire Thomas shows just how simple, but visually stunning a good crostata can be. Add the spiked caramel and a good cup of coffee or chai and your dinner guests will be begging for the recipe.
Claire made this crostata with us at the home of Betsy Simon — a full-on baking class for a few women we love like designer Rachel Pally, brow maven Kristie Streicher and women's health advocate, Brandi Sellers Jackson.
Apples were peeled, bourbon was sipped and later everyone enjoyed a little fireside taste of all that hard work. In person gatherings still feel like something to treasure these days don't they? Make this recipe an excuse for an extra hang with neighbors or friends this week or add it to your holiday table.
While using whole, organic ingredients arguably makes this dessert recipe pretty clean, if you want or need to avoid grains and white sugar, Earthy Andy's gluten-free crumble is an amazing option as well.
Claire Thomas's Bourbon Caramel Apple Crostata
The flavors of tart apples, sweet boozy caramel, and a hint of rosemary taste like pure fall. I used apples with the Apeel label here to make sure my produce was super-fresh and Off Hours bourbon — which also makes a great accompaniment as a cocktail.
Ingredients
4 medium apples (baking apples like granny smith, pink lady or honey crisp work best), peeled and thinly sliced
1/2 lemon, juiced
1/4 cup bourbon caramel, recipe below, plus more for drizzling
1 pie crust, recipe below
1/2 teaspoon chopped rosemary
1 egg for egg wash
Crostata Preparation
Mix together apple slices, caramel, and lemon juice in a bowl. Set aside.
On a lightly floured surface, roll out dough to about 12 inches wide (between 1/4 inch and 1/8 inch thick). Sprinkle with rosemary and gently roll to press it in. Roll up the dough on your rolling pin to flip it, so the rosemary is on the underside of the dough. Trim the edge of the dough if you want a cleaner look.
Pour the apple mixture into the middle of the dough, and pull the edges (about 2 inches) up over the apples, sealing them in.
Mix the egg with a bit of water and brush onto the dough.
Bake at 400F for about 30-35 minutes, until golden brown.
Drizzle with caramel.
For Crust:
1 1/4 cup AP flour
1/2 tablespoon sugar
1/4 tablespoon kosher salt
4oz grass-fed butter, very cold and chopped
Combine dry ingredients, add the butter. Using your fingertips, quickly work the butter into the flour, until the size of small peas. Add up to a 1/4 cup of icy cold water. Mix until it forms a rough dough. Pull into a ball and place on plastic wrap. Wrap well and press into a disk. Let rest in fridge for at least 30 minutes or up to 3 days.
For Bourbon Caramel:
1/2 cup granulated sugar
1/4 cup heavy organic cream, warm
1 oz bourbon
1 tablespoons unsalted grass-fed butter
1 teaspoon vanilla extract
1/4 teaspoon kosher salt, or to taste
Heat up sugar with 2 tablespoons water in a pot over medium heat until sugar is a dark amber hue, about 8-10 minutes. Do not stir. Add cream, followed by bourbon (careful it bubbles!), and cook for 2-3 minutes. Remove from heat. Add the butter, vanilla, and salt. Let cool before using.