Imagine a co-working lounge with beautiful spaces for collaboration and focused work, delicious treats, and strong wifi. Now, imagine that there is a state-of-the-art children's education facility attached. No, this isn't a fever dream, this is the new BümoWork, opening in L.A. later this month.
I'm not even a parent and yet I'm excited by the BümoWork model and its promise for working parents with young children. While the challenges of 2020 may have held up the launch of their first location, BümoWork is now more relevant than ever before, as many businesses stick with the work-from-home model that leaves young parents with a few logistical problems to solve.
BümoWork is an off-shoot of the online parenting community, Bümo, launched by fashion influencer, Chriselle Lim. Chriselle has a knack for making giant fashion houses from Chanel to Dior (which possibly peaked before fashion's current, fragmented reality) feel ultra-relevant with her incredible styling skills, approachable transparency, and a wry sense of humor. As the mom of two adorable daughters, she's also keenly aware of the issues facing working parents of young children.
To celebrate one of the most exciting new openings for families here in L.A. this year, we asked Chriselle to talk to us about the new space, parenting in 2020-21 and all she hopes to accomplish with the new project…
The Chalkboard: Can you describe BümoWork in a nutshell for those not familiar with the concept?
Chriselle Lim: BümoWork is a workspace-meets-education-based-childcare-center all in one. As a co-working space with dedicated licensed childcare within, we hope to empower other parents to excel in their own careers, without missing a beat in their kids' lives with BümoWork. It is a culmination of my and my co-founder, Joan's own journeys as work-from-home parents, and a testament to the hard work we've put in to navigate all that life and the pandemic have thrown at us and ensure our original vision still became a reality.
TCM: What initially inspired the idea of BümoWork?
CL: The inspiration for BümoWork came from juggling our own work responsibilities while trying to keep-up with our children's needs. We felt that there had to be a better solution to help parents doing it all from home, and came up with this new co-working concept where you can work hard and parent hard under one roof. Based on our own experiences, we were able to pinpoint the key needs of working parents and incorporate them into this unique space.
TCM: Talk to me about a couple of *ideal* scenarios you hope partners will experience as members…
CL: Our goal with BümoWork is to allow parents to flourish in their career while also providing their children with the care and resources they need in the same space. When at BümoWork, we hope that parents are able to not only tackle day-today work, but also provide their child with an enriching environment that benefits them beyond traditional childcare. We also hope that parents are able to connect with each other as they are facing similar situations, and utilize the network of fellow Bümo parents as a resource and sounding board.
TCM: The pandemic clearly changed everyone's business plans, with more people working flexible office hours, do you expect more interest in BümoWork than you did before all this started?
CL: Our plans to create BümoWork started before the pandemic as we saw that the need was there. With everything that has changed in the past year, including the drastic increase in parents working from home, we only see the need growing stronger.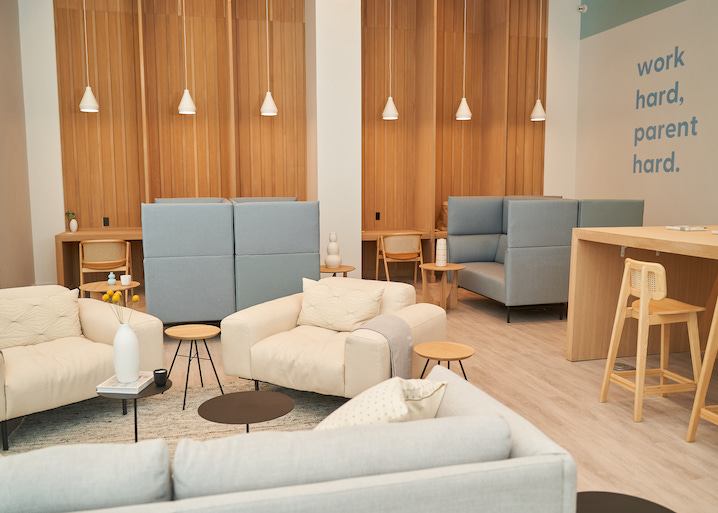 Companies are now taking a closer look at their physical working spaces and determining what changes have to be made. For many, work-from-home will continue to be the norm, but as the world opens back up, parents are needing new resources to keep up with their workload and their families. That's where BümoWork comes in to help.
TCM: How has the team had to adjust the design of the space with pandemic realities in mind?
CL: As a whole, we want to not only offer a great space, but keep everyone safe as well. Due to COVID-19 restrictions, we've had to keep our overall membership numbers lower than we had initially planned to allow for proper social distancing. Each child will have their own individual toy bin as well, and of course masks and temperature checks will be required.
TCM: What are some of your favorite details about the design of the space?
CL: We designed BümoWork in collaboration with famed architect Josh Heitler, of Heitler Houstoun Architects, who designed the Drybar concept space, W Hotel Las Vegas, and more. He helped us bring our vision to life, while making sure that every aspect served a purpose.
The overall layout was organized around 3 zones – work, care and shared – to help separate the functions acoustically and provide noise control. The shared areas, which include the nursing/lactation and parent/child rooms, help create a buffer zone between the loudest areas of the care side, the toddler and infant play rooms, and the work areas.
Within the co-working area, we tried to provide a variety of spaces for different types of work – more focused, more social, etc. To do this we used a variety of architectural, millwork, and furniture techniques to create different levels of visual and acoustic privacy. For example, we have a phone room and private carrels for when parents need to take that important call. We have a communal table for when parents want to truly feel like they're in a co-working space and network with fellow Bümo parents. Everything in the space is intentional and serves a purpose, even down to the high-back chairs that provide privacy and break up noise.
With furnishings from Industry West, the space overall was strategically designed to weave in unique details throughout, providing equal emphasis on aesthetics and functionality.
TCM: Talk to us about the wellness elements involved at BumoWork…

CL: A great example of wellness at BümoWork is in the nursing room. We worked to make the space as convenient as possible with easy access for both mothers and infants to meet in a shared space adjacent to both the working and child zones.
Within the room, there is ample pantry, refrigeration and counter space for mother's to utilize. We also used decorative touches that reinforce the power and history of nursing, even providing a space to allow mothers to leave encouraging notes for each other. The space is centered around making the nursing experience as easy as possible, even down to the comfiest chair we could find.
TCM: You're beginning with just one location. Do you expect to expand anytime soon?

CL: Although we are still in the early stages of our first location at Westfield Century City, we absolutely have plans for future BümoWork locations and definitely see it taking many forms. We are currently in the process of working with a number of companies who are reevaluating their offices to see how we can incorporate BümoWork into their existing space. The needs of working parents have only been underscored over this past year and we believe that BümoWork can be the solution.