Meet the him and her
behind
Yoga Wake Up
, Lizzie and Joaquín Brown. Yoga Wake Up is best known as the "yoga alarm clock" thanks to the app's multitude of in-bed yoga routines designed to remove every obstacle between us and
'yoga every damn day'.
These days, the benefits of yoga are well-known. But, whether it's time, budget or an insistence that yoga is too 'boring', many of us have yet to tap into to one of the most potent forms of mind-body therapy available today.
With more of us learning to workout at home than ever before, we drilled down on all these app founders have to offer for those of us who are looking to get in enough movement, are ready to explore meditation or are wondering how to simply wake up in a better mood…
The App: Yoga Wake Up
The Founders: Lizzie and Joaquín Brown, partners in life!
Can you tell us what Yoga Wake Up is all about in a nutshell?

Yoga Wake Up infuses our days with movement, breath, gratitude, and mindfulness, from the minute we wake up.
We love that your app offers so many in-bed classes! Talk to us about how that idea was born?

Joaquín: Audio-guided "bed yoga" is quite unique to us!
Yogis often say they have their best ideas on the mat so it's no surprise that the idea for Yoga Wake Up came about in a yoga class! It was my first time in Jen Smith's Spirit Yoga class. She had the lights low and whispered for everyone to make themselves comfortable with blankets and a bolster, imagining that they 'were still in bed'. She then gently eased the class through poses on the floor until they were brought to standing in tadasana, announcing "good morning".
I wondered, "What would the world be like if we all woke up like this?"  Within days, Yoga Wake Up, the 'yoga alarm clock' was born.
What does an in-bed class on the app usually entail?
Lizzie: Most of our bed yoga sessions begin in bed — obviously. You're usually sleeping, so the first 30 seconds start out with soothing music to gently rouse you awake.
Then a certified yogi eases you into gentle poses while still in bed like supine twists or cat cow while dosing you with something positive to enlighten your day and inspire something special.
Sessions are between 5-15 minutes, because we know you're busy and ready to get going. You can choose sessions that keep you under the covers longer or ones that guide you onto your feet! Everything feels easy and delightful, and a few sessions even get you dancing, but you'll have to try them to find out which ones.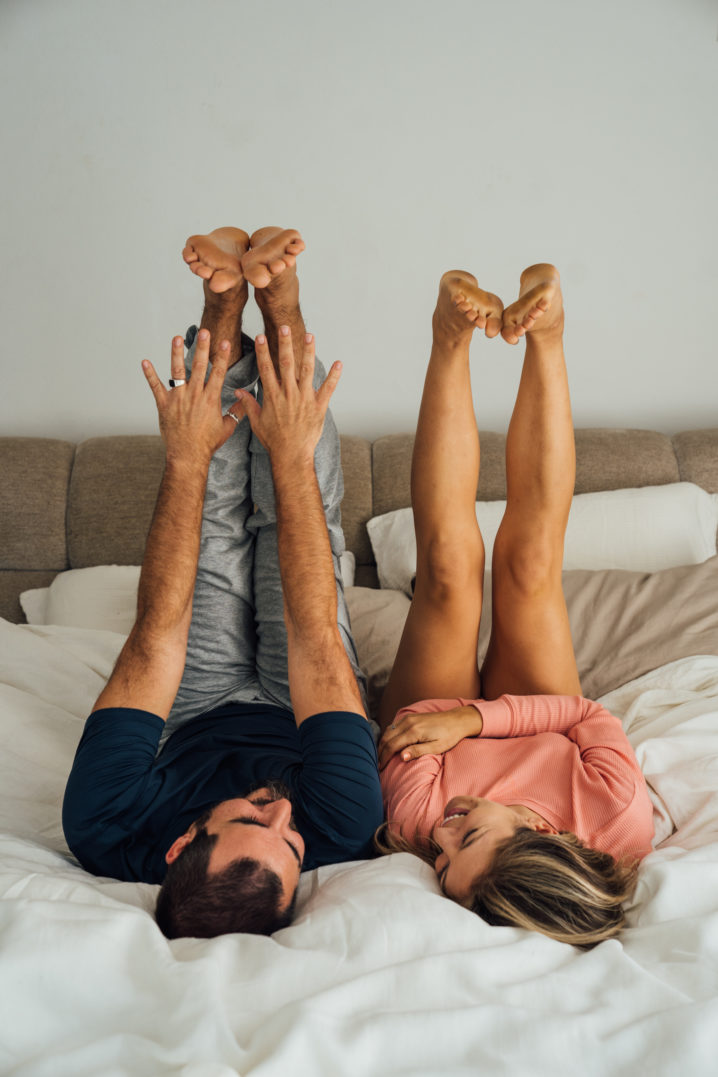 What are the 3 biggest hindrances to a good yoga routine in your experiences? 
Distraction. We just watched The Social Dilemma on Netflix and it drove home what we already know– our social media apps are masters at getting our attention. Most yoga classes don't allow smartphones for a reason — an at-home practice ought to have similar ground rules.
Yoga Wake Up is accessed from mobile only, so interruption is always a possibility, particularly when no one's watching or holding you accountable.
+ Consider deleting social media from your phone or turning off related notifications that get between you and your daily yoga practice!
Time. When we're busy, it is easy to say, "I just don't have time for my yoga practice." That's why we offer so many sessions that are between just 5-20 minutes!
We want this practice to be convenient so that you can always find the time, even if it's just 10 minutes of meditation in the morning. Its effects are cumulative.
+ Give yourself at least two weeks with the app — even if just for 15 minutes a day! — and we bet you will start to notice the mental and physical health benefits of making a daily practice part of your routine.
Access. We've all been there; you're ready to embark on a healthy new habit and you set your goals high! Then life gets in the way.
+ With hundreds of audio-guided sessions at your fingertips, our goal with the Yoga Wake Up app is to make a daily practice more accessible for more people than ever before. Most sessions don't even require a mat! Just you. And a commitment to connecting to your breath.
What is it that you think finally gets people 'hooked' on a daily yoga routine? Have you found a specific length of time that's needed in order to cement the habit?
We think it comes down to how the practice makes you feel.
Any seasoned yogi can remember how difficult it was to get started. Your hands hurt in downward dog (which is supposed to be a resting pose?!) and you're not quite comfortable in your body yet. We suggest giving Yoga Wake Up a try for at least a month.
Commit to waking up with us daily for even just 5 minutes (we love Justin's A Cup of Morning Grace and Niki's Me-Time Moment). Watch as you start feeling more present and calm in those first minutes of your day.
The first changes you notice may be physical — less low back tension or less tightness across the chest and shoulders. Once the emotional changes kick in, you're hooked. Then it becomes all about the yoga you're doing off the mat, throughout your day in how you treat others, how you show yourself love and how you feel when you show up to your mat everyday.
Did you design Yoga Wake Up with the yoga newbie in mind?
When you first download the app we take you through a series of questions to get to know you, so we can set you up for success with your new yoga routine.
It's important to feel empowered coming into the app, so we immediately gift two free audio-guided sessions tailored to your needs and preferences, such as beginner or experienced, or in bed yoga versus yoga on your mat.
Most sessions are created with all levels in mind, and since they are audio guided, our teachers are quite skilled in describing how you should feel in each pose, so there's little room for error.
If you came to us for handstands, well, we're just not that kind of app – our content is designed to feel like moving meditation. When we record a session, we ask ourselves, "Is this yoga anyone can do?" It's so important to us that our customers walk off the mat and into their day with a sense of accomplishment.
What are some ways users are engaging with the app that you really love?
We are so personally touched by our reviews and honored to be a part of those first waking minutes; that sacred time from sleep to wakefulness is such an intimate time for us all.
When we began in 2015 we thought we had created a solution to the dreaded alarm clock. These last few years, during the rise of social media and the subsequent increase in depression and anxiety, we've been honored to provide a healthier, happier start to the day! Waking up with yoga and meditation, instead of scrolling social media or the news is a complete gamechanger. We couldn't be more thrilled to provide such a unique alternative.
And for the seasoned yogi? Which classes did you recommend?
Just as a beginner can find sessions tailored to their needs, our seasoned yogis can choose from a robust selection of more active sessions as well.
We recently launched a daily livestream featuring our most popular teachers for 45 minutes. The program was created with a daily yoga practice in mind with the exertion level gradually winding up and then back down throughout the week. These classes offer something more challenging for our seasoned yogis but we hope beginners will try them too. Class "meets" everyday at 8:00 AM (PT) and replays up to 24 hours.
Expect to break a sweat Tuesdays with Vance and Wednesdays with Derek. Then follow those up with Niki's Thursday class focused on care and repair. Currently, the live programming is only available to YWU Subscribers.
We also have the class that started it all by Jen Smith on Sundays at 10:00 AM (PT) and we offer workshops on select Saturdays.
Which class are you most excited about lately?
New Orleans native Mark Berger is visiting us in Los Angeles this week and recording an exclusive 7-part Storytelling Bedtime Series on the deities such as Krishna, Ganesha and Shiva. We have no doubt they will be pure MAGIC!
Can you share some great tips or favorite equipment for those full-on classes at home?
I swear by my TriggerPoint GRID foam roller and keep it nearby for some extra TLC post-class when I am already feeling warm and open.
We're also firm believers in yoga props and Manduka is our preferred choice for quality and cost. Beginners will want to have two blocks, a strap and a bolster nearby but a hand towel or a stack of books can make suitable at-home substitutions!
This story is brought to you in partnership with Yoga Wake Up. From time to time, TCM editors choose to partner with brands we believe in to bring our readers special offers.