Inspired by Reformation's new collab with La Ligne (100% recycled yarn!) we've pulled together these ethically, socially and environmentally sustainable sweaters for fall.
Consistently awesome eco-conscious clothing brand, Reformation, (meet the founder) has teamed up with NYC label La Ligne to create a line of sweaters from 100% recycled yarns from using things like discarded plastic bottle and used denim cuts. It's stylish, smart, and we're into it!
Chic and eco-conscious were once far removed from one another – this round-up of stylish, cozy sustainable sweaters shows just how quickly that's changing…
Eileen Fisher 

HANDKNIT PERUVIAN ALPACA BOX-TOP
| This sunny sweater is handknit, and made with Peruvian Alpaca wool sourced ethically from the Andes. It is one of the Fair Trade gifts in Eileen Fisher's Love,Peru project, which invests in higher wages and local communities. CHECK OUT
Reformation x La Ligne Never Let Me Go Sweater |
 This forest green knit is the ultimate shade for fall. We love that it's made out of recycled cotton fiber — but feels soft and cozy on our skin. The vertical lines of the stitching helps elongate your body. Pair with leggings or your favorite jeans for a perfectly casual but put-together look.  
CHECK OUT
Amour Vert Perryn Sweater | 
This gorgeous sweater from eco-chic retailer, Amor Vert, is made from Italian spun wool ethically sourced from New Zealand and Australia — their mills have the highest levels of animal welfare for wool production including a professional shearing team that is employed to ensure all wool is harvested in an ethical manner, ensuring the sheep are handled in a stress-free environment.
CHECK OUT
Reformation x La Ligne Color Me Happy Sweater |
Another gem from the Reformation x La Ligne line. This cozy and relaxed fit sweater is made from recycled cotton — and made for a very stylish, snuggly fall season. 
CHECK OUT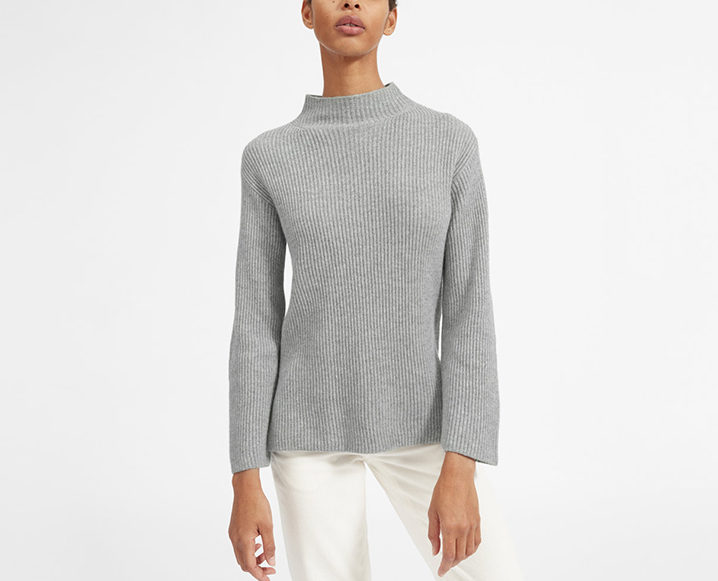 Everlane Cashmere Rib Mockneck Sweater |
 This 100% cashmere sweater is chic and cozy in equal measure. We love it even more because it's from Everlane. Their brand is built on the value of transparency, so we know the sweater we're wearing mades us feel good on all levels. 
CHECK OUT