Mother's Day is coming up on May 9th and we know more than one mom this year whose only request for Mother's Day is alone time. After all that most mothers have been through this year — from new work from home realities to surprise home-schooling or even first-responder duties — we'd say she's earned quite a bit of that.
Whether you're planning to send your baby mama on a night away for some room service, bubble-bathing and a full night of uninterrupted sleep or not, these ideas below will give her something to savor and unwrap as your family celebrates the matriarch in your life…
Carriere Freres diffusers As much as we love a good candle, we go through them way too fast! We're spending so much time at home lately and we've fallen in love with reed diffusers. Carriere Freres makes an array of brilliantly clean scents, including Mom's Day appropriate Rose Menthe, an intoxicatingly fresh scent that smells as much like real roses as any scent we've tried. Scent can truly set the tone at home and give the mom in your life a bit of subtle uplift from day to day. The packaging is a thrill to unwrap and children can help to select from the array of beautiful scents for mom's office or bedroom. SHOP NOW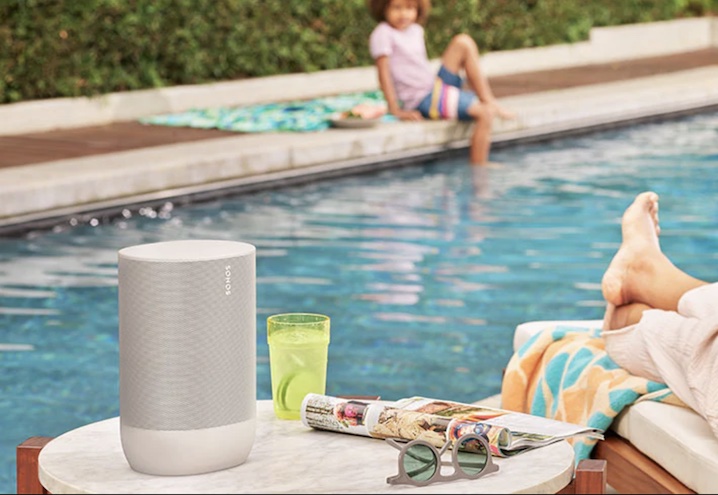 SONOS Indoor Outdoor Set We adore this set of indoor-outdoor wireless speakers from SONOS. If your home isn't fully wired for sound, high-quality Bluetooth speakers like these can be a total game-changer. Think family dance nights or music that flows from kitchen to dining room with ease. The new SONOS Roam is perfect for a deskside or in-kitchen speaker that can transform a stale environment with her favorite tunes. SHOP NOW 
Helena Quinn silk robe This L.A. designer specializes in sustainably made silk pieces — and your mama (or wife!) has likely earned a few of these pieces through the year. We're a huge fan of the brand's kimono-style robes which made our Holiday Gift Guide last year, but the pajamas, slip dresses, camisoles and other timeless pieces in flattering shades and prints all make great gifts. SHOP NOW 
Sage We've been obsessed with this under-the-radar perfumeries for ages. Their perfume oil and candle sets are such a great gift if you know your mom's scents of choice well. Each fragrance is handcrafted with the highest quality essential oils, raw natural materials and sustainable, clean synthetics. The full size perfume and candle sets are giftable, but don't miss the little perfume oil roller balls for yourself and thank us later. SHOP NOW
Almond Cow We are late to the game on this incredible kitchen gadget and now we're fully hooked! The Almond Cow lets you make any kind of nut milk automatically without breaking out the blender and wringing the life out of a bit of cheesecloth. If you have a plant-based mom in your life whose looking to simplify her morning and uplevel her 'mylk' recipes, this gift is a super-fun pick. SHOP NOW
Vitruvi Move Diffuser The first-ever wireless essential oil diffuser with a charging pad, allowing you to scent every corner of your home — no plug required.
We didn't expect to enjoy the wireless quality so much, but it makes diffusing scents around the house so much more fun. Tote the diffuser to the kitchen, bring it into the bathroom for your evening skincare routine or move it extra close to your work station or reading nook for maximum scent. The perfect gift for the essential oil obsessed mama. SHOP NOW
Foria's "Me Time" CBD bath salt Trio We're obsessed with cool girls' CBD brand, Foria and their just-launched set of bath salts are the ultimate Mother's Day gift. Relief is made with CBD, kava, arnica, peppermint and ginger to support soothing restoration and recovery. Intimacy is made from a blend of CBD, rose, cacao, and kava to inspire deep relaxation and sensual connection.Wellness is made with CBD, kava, lavender, calendula, and ginger calm the senses and nourish the skin. SHOP NOW 
Pyrrha Talisman Pendant Necklaces These well-crafted pendants from Pyrrha are sure to serve as a treasured piece for years to come. The first-responder pendant (center, above) is a very special choice for the mother in your life in medicine or elsewhere this years. The pendant reads 'Vi et animo,' meaning 'By strength and courage. Check out their wide variety of meaningful designs. SHOW NOW 
Beauty Bar Chocolate These ultra-giftable chocolates come in a variety of flavors and functionalities, including a calm-inducing flavor with lavender that we just adore. Gluten, dairy and refined sugar free, each flavor also includes beneficial ingredients like collagen, adaptogens and superfoods. SHOP NOW 
aplat culinary tote Have you seen these chic recycled pie and dish totes from Aplat? They're absolutely adorable for the holidays and great gift — as long as you bring with a pie or other treat inside! SHOP NOW 
The warmest wishes to all of our readers who are mothers! Text this wishlist to your kids and let them know your favorite picks this year!