Whether or not you have a date this Valentine's Day doesn't really matter when you have good friends, good food, and good wine. We corralled up our favorite foodies for their ultimate dessert fest to celebrate not only the day of love, but the launch of Joy the Baker's first cookbook as well.  Whitney Adams from Brunellos Have More Fun selected the perfect wines to sip with the sweet stuff;  Joy Wilson of Joy the Baker brought Chocolate Cream Pie and Homemade Toasted Coconut Donuts; and Claire Thomas of The Kitchy Kitchen made Chocolate Brown Butter Bread Pudding and Raspberry Rose and Pistachio Pavlova, plus captured the whole thing! We're getting a residual sugar high just looking at it all!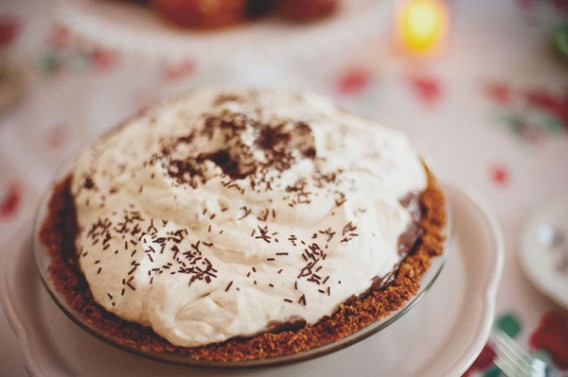 Chocolate Cream Pie
This chocolate pudding pie is the perfect combination of causal and elegant. It's topped with fluffy, vanilla speckled whipped cream and real chocolate sprinkles. It looks like regal comfort food. The crust is buttery with hints of toasted coconut. The best part about this pie? Forget the knife and spatula… serve this pie using a large serving spoon. Keep it easy and serve it generously.
makes 1 9-inch pie
recipe adapted from Gourmet Magazine, February 2004
For the Crust:
1 cup crushed graham crackers
1/3 cup unsweetened shredded coconut
6 tablespoons unsalted butter, melted and cooled
1/4 cup brown sugar
pinch of salt
For the Filling:
2/3 cup granulated sugar
¼ cup cornstarch
½ teaspoon salt
4 large egg yolks
3 cups whole milk
5 ounces bittersweet chocolate (I used 54%), melted
2 ounces unsweetened chocolate, melted
2 tablespoons unsalted butter, softened
1 teaspoon pure vanilla extract
For the Topping:
one pint heavy whipping cream
2 tablespoons powdered sugar
seeds of 1 vanilla bean (or 2 teaspoons pure vanilla extract)
To Make the Crust:
1. Place a rack in the center of the oven and preheat oven to 350 degrees F.
2. In a medium bowl, stir together graham cracker crumbs, shredded coconut, melted butter, sugar and salt. Make sure all of the mixture is moistened by the butter.
3. Pour into a 9-inch pie plate and press the mixture along the bottom and sides of the pan. Place in the oven and bake until browned and crisp, about 15 minutes.
4. Remove from the oven and allow to cool completely.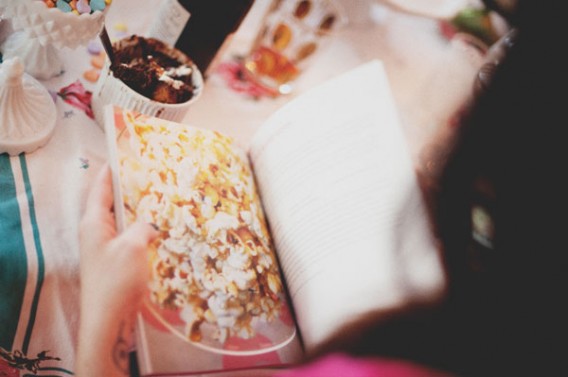 To Make the Filling:
1. In the microwave or using a double boiler, melt the bittersweet and unsweetened chocolate. Stir together and set aside.
2. In a medium saucepan, whisk together sugar, cornstarch, salt and egg yolks. Place the pot over medium heat and immediately drizzle in the milk, whisking constantly. Whisk until no lumps remain. Bring the mixture to a boil over medium heat, whisking often. Boil the mixture for about 1 minute. It will be the texture of a loose pudding. It will firm up once cool.
3. Place the mixture in a fine mesh strainer fitted over a medium bowl. Press the filling through the strainer, leaving and cooked egg bits in the strainer.
4. Stir in the melted chocolate, butter, and vanilla extract. Place a piece of plastic wrap directly on top of the pudding mixture and allow to cool completely in the fridge for 2 hours.
5. Spoon the filling into the crust and chill the pie, loosely covered, for 6 hours.
To Make the Topping:
In the bowl of an electric stand mixer, fitted with a whisk attachment, beat together cream, sugar, and vanilla. Beat to loose peaks. Just before serving, generously spoon over chocolate pudding. Top with chocolate sprinkles, spoon, and serve.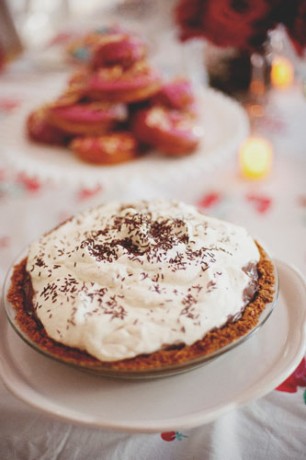 Homemade doughnuts are perhaps the most perfect and only way to show someone you care. These doughnuts are a play on the traditional cake doughnut, frosted pink and decorated with snow white coconut. This version is slightly more neon and toasted, making is rustic cool.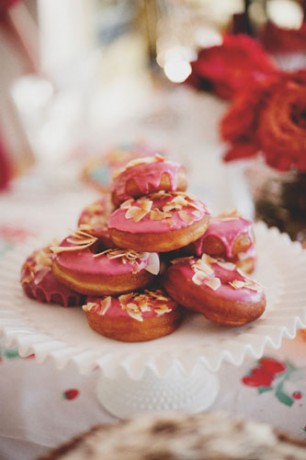 Pink Raised Doughnuts with Toasted Coconut
makes 12-14 doughnuts
recipe adapted slightly from Top Pot Hand-Forged Doughnuts
For the Doughnuts:
3 tablespoons (four ¼ ounce packages) active dry yeast
1 cup warm water (about 105 degrees F)
½ cup granulated sugar, plus 1 tablespoon granulated sugar
½ teaspoon baking powder
½ teaspoon fresh ground nutmeg
2 teaspoons iodized salt
4 to 4 ½ cups bread flour, plus more for dusting, rolling, and cutting
¼ cup vegetable shortening
3 large egg yolks
½ teaspoon pure vanilla extract
canola oil for frying
For the Glaze:
4 cups sifted powdered sugar
2 teaspoons light corn syrup
¼ teaspoons salt
1/2 teaspoon pure vanilla extract
1 to 3 drops red or pink food coloring
scant 1/3 cup hot water, plus more if necessary
To Make the Doughnuts:
1. In the bowl of an electric stand mixer, whisk together the yeast, water and 1 tablespoon of sugar. Let stand for 5 minutes, until mixture is foamy and frothy. That's how you know the yeast is alive and ready to doughnut!
2. In a large bowl, whisk together sugar, baking powder, nutmeg, salt and 4 cups of bread flour. Set aside.
3. Break up shortening and add to the yeast mixture. Add the egg yolks and vanilla extract and beat on low speed, using the paddle attachment. This will deflate the yeast bubbles and help break up the shortening.
4. With the mixture on low speed, add one third of the dry ingredients. Blend until flour disappears. Add another third of the dry ingredients. Beat until flour disappears. Switch to the dough hook and add the last amount of flour. Mix on low speed until no flour bits remain. Add a bit more flour if necessary. The dough should clean the sides of the bowl, and not stick to the bottom in a pool.
5. Knead for 2 minutes. The dough will be glossy, and just a bit sticky… but it shouldn't stick to your hands.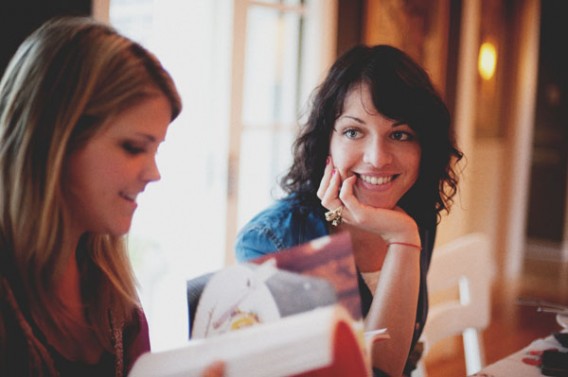 6. Transfer the dough to a baking sheet that has been sprinkled with 1 tablespoon of flour. Shake into a 6-inch circle and dust the top with flour. Cover with a dishtowel and set in a warm place to double in size.
7. The Top Pot Cookbook has an awesome way to create your own proofing box! Bring a large kettle of water to a boil. Pour about 8 cups of water into a large baking dish. Set it on the floor of your oven. Place the sheet tray with covered dough on the middle rack above the steaming water, close the oven door and let rise for about 1 hour.
8. Transfer the dough to a lightly floured work surface and roll out into a roughly 12-inch circle, about ½ inch thick. Cut into 12 doughnuts and 12 holes using a 2 ¾-inch and 1 ¼-inch round cutter. Gently transfer the doughnuts and holes to two baking sheets that have been sprinkled with flour. Set the doughnuts for their second rise about 2 inches apart.
9. Let rise in the oven for another 30-45 minutes, using another hot water proofing bath.
10. In a medium or large heavy-bottom saucepan, heat canola oil that is 2-inches deep. Use a candy thermometer to bring the oil to 350 degrees F.
11. When the doughnuts have doubled in size, place a few doughnuts into the oil to fry. Don't overcrowd the pan. Fry for 30 seconds on one side, flip and cook for another 30 seconds. Doughnuts will darken slightly as they cool, so don't cook them too dark. Transfer to a few layers of paper towel to cool. Bring the fry oil back to 350 degrees F before frying new batches of doughnuts.
12. Allow to cool completely before glazing.
To Make the Glaze:
Place the sugar, corn syrup, salt, and vanilla in a large mixing bowl. Add the food coloring and hot water and use a whisk to incorporate. Blend until entirely smooth. If the mixture seems to thick to easily dip doughnuts, add more hot water 1 teaspoon at a time.
To ice the doughnuts, dip one side of the cooled doughnuts into the freshly made icing. Let dry and set for 10 to 15 minutes before serving.
Brown Butter Chocolate Bread Pudding:
1 baguette or french loaf, cubed and dry (stale bread is perfect)
3 cups half and half
1 cup packed light brown sugar
1/4 cup cocoa powder
6 eggs, lightly beaten
8 ounces semisweet chocolate, grated/chopped
2 tablespoons unsalted butter
2 tsp vanilla
1/2 tsp sea salt
8 oz creme fraiche or sour cream
1 tablespoon sugar
1 teaspoon vanilla
Preheat oven to 325 degrees F.
Lightly grease a 13 by 9-inch baking dish or 5-6 12oz ramekins  with butter and fill with the bread. Sift the brown sugar and cocoa into the half and half and mix well. Add the vanilla and salt to the beaten eggs. To make the brown butter, melt the butter over medium heat until the milk solids turn golden brown.  Take off heat and pour into a bowl to cool (it can still burn in the warm pan).  Combing with the egg mixture and add to the milk mixture, mixing well.
Stir the grated chocolate into the mixture. Pour the mixture over the cubed bread in the pan. Let the mixture stand, stirring occasionally for approximately 20 minutes or until bread absorbs most of the milk mixture. Bake the large pudding for 1 hour or 45 minutes in the small ramekins until set in a water bath.
To garnish, whip the creme fraiche until it forms soft peaks with the sugar and vanilla.  Top the ramekins with a dollop or serve on the side. Enjoy!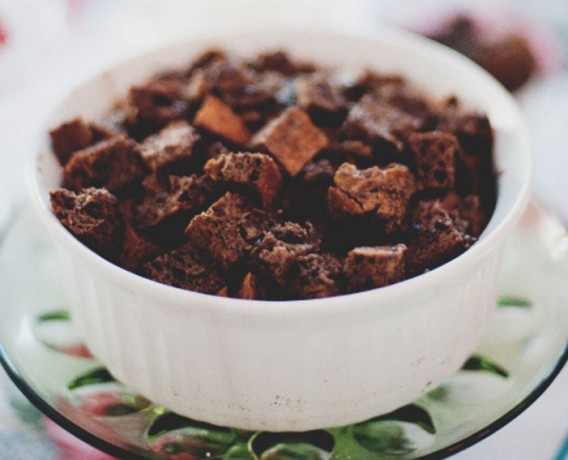 Heart-Shaped Pavlova
For Meringue:
(1 large or 6 small)
4 large egg whites
1 cup superfine sugar
1/2 teaspoon pure vanilla extract
1 teaspoon cream of tartar
1/2 tablespoon cornstarch
Pinch salt
For Filling:
1 cup heavy cream
1 tablespoon sugar
1/4 tsp rosewater
1 tsp vanilla
1-2 pints raspberries
For Garnish:
2 pints raspberries
1 tablespoon sugar
pistachios, husked and coarsely chopped
Preheat oven to 275F. Sift the sugar, cream of tartar, and cornstarch. On low mix the whites and salt for 1-2 minutes or until frothy. Go up to medium high, gently adding in the dry ingredients in a stream. Once the meringue is glossy and forming soft peaks (anywhere from 4-10 minutes, depending on your mixer), finish on high speed and add the vanilla. Meanwhile, on a piece of parchment paper, draw your heart shape as a template.  You don't have to do this, but it definitely helped me. Spoon the meringue onto the shape, and spread so it forms a 1/4-1/2 thick layer (thicker for larger pavlovas) and then add more meringue around the edge, forming a border of little peaks. It should be anywhere from 1-3 inches high, depending on how large your pavlova is.
Pop in the oven and turn down the temperature to 250F.  Bake for 30-40 minutes for small pavlovas and 1 hour for a large pavlova.  It should be a slight beigey-pink and definitely NOT toasted. Turn off the heat and crack the oven open.  Let the pavlovas cook to room temperature and remove (this is to prevent cracks and to cook it totally through).  You want it crisp on the outside and soft on the inside.
For filling, whip the cream, sugar, vanilla, and rosewater until soft peaks form.  Fold in the raspberries (do more if you like a lot of raspberries).  Mound the whip cream in the middle of the meringue and top with fresh raspberries and pistachios.
NOTE: Do this just before serving since the whipping cream will dissolve the meringue over time.
For a quick raspberry sauce, combine the raspberries and sugar over low heat (add a spoonful of water to get things started) until saucy (about 5-10 minutes).  Let it cool a bit and drizzle over the pavlovas.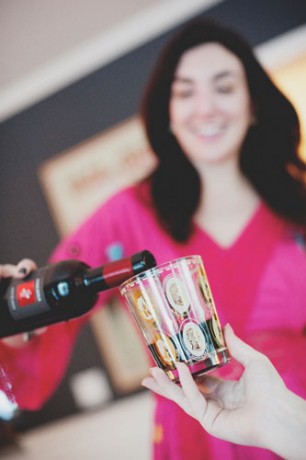 For food compatibility (and aesthetics), I chose 3 wines in shades of blush. There was a Battle of the Gamays and an interesting Italian dessert wine to sweeten the deal.
Frantz Saumon "La Cave Se Rebiffe" Petillant Naturel ($18.69, Selection Massale)
Named after a 1961 Jean Gabin movie, this gently sparkling rosé is made from 100% Gamay from Montlouis in Loire. Taking a sip of the wine was much like biting into a fresh, tart raspberry, so it was a perfect match with the Pavlova. Goes to show you don't need a sweet wine for dessert. The acidity and playful fruit balanced the soft cream and meringue and didn't overwhelm the delicate flavors of the berries or clash with the salty pistachios.
Jean-Paul Brun Terres Dorees "FRV100″ ($20 , Domaine LA)
A méthode ancestrale style sparkling rose and slightly sweeter expression of the Gamay grape, this wine hails from Beaujolais. It's cheerful and dare I say gulp-able and dang near perfect with fried donuts. Who knew! Ever the versatile workhorse of a dessert course, it's also a delicious match with Joy's chocolate cream pie.
Luigi Giusti Visciola ($30, Domaine LA)
Made from Lacrima wine and sweetened Visciola cherry juice, this dolci wine is classic in the Marche region of Italy. Kind of like a lighter, less sweet and more aromatic red port. Great with the chocolate bread pudding! Take a bite of the dessert and a sip of the Visciola and it's like you're biting into a chocolate covered cherry.